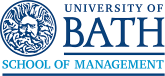 University of Bath School of Management
Home ›
University of Bath School of Management
We are one of the UK's leading business schools. We are ranked 1st for Marketing, 2nd for Business and Management Studies (the Complete University Guide 2018) and 3rd for Business Studies (The Times and Sunday Times University Guide 2017).
We are a leading centre for management research, placed 8th in the UK in the latest research evaluation exercise external website.
EQUIS, the European Foundation for Management Development's quality inspectorate, have granted us five-year accreditation. Only around 1% of business schools worldwide have successfully achieved this recognition.
Our research
We have an excellent reputation for the quality of our research which covers all areas of management. We organise our research into cross-functional Research Centres which focus our initiatives and funding.
These Centres overlap with the interests of our Divisions and Research Themes.
Our community
We have a faculty of over 100 teaching and research staff and a professional team of around 70 managerial and administrative staff.
We have around 2,500 students: 150 MBA students, 600 MSc students, 250 research students and over 1,500 undergraduates.
Our courses
Undergraduate courses
MSc courses
MBA programmes
Research degree programmes
Executive development programmes
Our Identity and Purpose
We engage business and society to influence the present and shape the future through our scholarship.
We attract the brightest minds to produce the best business graduates and educate the next generation of leaders.
We deliver forward-looking, practice relevant education to provide the best possible student experience.
We achieve this through being a collegiate, socially responsible Management School conducting international, leading-edge research.
To equip students with the best possible opportunities, our academics conduct world-class research on an on-going basis. We are keen to generate ideas that have an impact in the workplace and believe that students learn best through interactive debate so the opportunity to question current thinking is positively encouraged. It's this partnership between student and academic that accounts for why we are so highly ranked for both student satisfaction and graduate employability.
The City
Bath is one of the most interesting, cosmopolitan and vibrant cities in the UK. It is also on UNESCO's World Heritage List and is a popular tourist destination, due to its Roman and Georgian history. The city is known particularly for its beautiful Georgian architecture and natural hot springs.
Bath is also a lively and cosmopolitan city, offering great shopping and a wide selection of cafés, bars, restaurants and clubs. It also has two cinemas and three theatres. As a small city, it is easy to find your way around. Visit Bath has more information on what the city has to offer and The Pig Guide offers a friendly going out / restaurant guide for Bath. The Bath Leap List also promotes student-friendly events in and around the city.
There are many ways you can get involved in the School's community including joining our Events Committees and helping to organise events, the Conversation Club which meets each week which enables students to improve their English in an informal environment or the School's student and staff football and basketball teams.
The Students' Union
The Students' Union offers a wide range of services and activities. It is home to nearly 100 different societies, 55 different sports clubs and offers volunteering opportunities, as well as organising regular events such as Freshers' Week, the Summer Ball and day trips.
The Campus
The small campus is set in extensive grounds with open views and is one mile away from the city centre. It houses a range of accommodation, a 24-hour library, shops, two banks, a Chaplaincy, The Edge arts centre, world-class sports facilities and several restaurants, cafés and bars, creating a strong sense of community.
Sport at Bath
The University's Sports Training Village offers some of the best sporting facilities in the UK. Facilities include fitness suite, floodlit 8-lane athletics track, 50m swimming pool, 18 tennis courts, 12 badminton courts, judo dojo, 8 fencing pistes, air pistol range, bobsleigh track and extensive rugby and football pitches.
International Students
Bath has students from over 130 different countries, making up just over 30 percent of the student population. We offer our community of international students a supportive and cosmopolitan environment in which to learn. The International Office website provides further information and support.
Locations
Bath
Address
University Of Bath, School of Management
Bath
,
England
,
United Kingdom