Hult International Business School
Home ›
Hult International Business School
Hult's pioneering approach empowers you with the entrepreneurial skills to make an impact from day one. You'll learn about the world, because globalization has made the world more interconnected than ever. You'll learn about the future, because technology is driving change and sustainability is essential. You'll learn about yourself, because you need to constantly adapt to stay relevant throughout your career.
Graduate into a global network
Build an international network by collaborating with students from around the world. Our students represent more than 160 nationalities and speak over 100 languages—you never know where your next contact, investor, or business venture will come from.
In demand with leading companies
Employers hire Hult graduates for their entrepreneurial attitude, curiosity, and international outlook. We specialize in helping international students find international jobs. Last year, Hult graduates from our graduate programs accepted job offers at 825 companies in over 60 countries.
The future is lifelong learning
Change never stops, so your business learning shouldn't either. We empower you to be able to stay up-to-date with emerging trends by taking a complementary elective each year for the rest of your life.
Put theory into practice
At Hult, we believe you learn best by doing. As an integral part of your studies, you'll have multiple opportunities to apply your knowledge and skills by working in teams to solve real-world problems.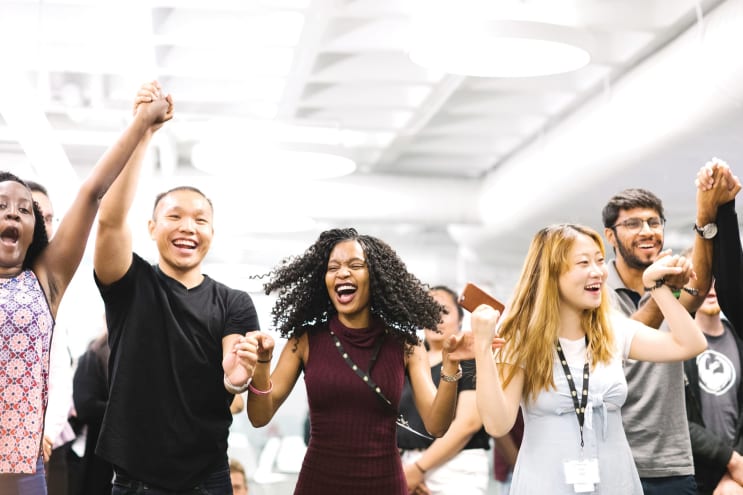 Global Community
When you come to Hult you'll join a close-knit student community of unparalleled diversity. Learn what makes other cultures tick, have an international perspective on business, and graduate with friends and contacts all over the world.
Career Development
Get ready to network with global corporations and exciting startups at our on-campus careers events. Your personal Career Advisor will guide you on a journey of self-discovery toward your graduate job and support you in developing the tools and skills to land it.
At Hult, your Career Advisors have years of experience helping international students find jobs. They'll help you to position yourself in the global market and advise you on entry strategies for your ideal location and industry.
Global Faculty
Corporate executives, entrepreneurs, and researchers—Hult professors are internationally renowned for business practice and thought leadership, with a passion for creating and teaching principles that reflect both the foundation and frontier of business success.
Hult Alumni
Your Hult journey continues long after you graduate. As a member of the Hult Alumni Association, you have access to a global network of graduates, lifelong learning opportunities, and many ways to connect with fellow alumni and business opportunities around the world. The Alumni Association has over 23,000 alumni in more than 170 countries around the world.
Accreditation
Hult is recognized by business education's three most prestigious international accrediting bodies: The Association to Advance Collegiate Schools of Business (AACSB International), Association of MBAs (AMBA), and EQUIS (The European Quality Improvement System). We are the first and only business school in the U.S. to achieve this triple accreditation, which is held by just one percent of business schools worldwide.
Locations
London
Hult International Business School - Postgraduate Campus
Address
London - Postgraduate Campus
37-38 John Street
WC1N 2AT
London
,
England
,
United Kingdom
Cambridge
Hult International Business School - Boston Campus
Address
Hult International Business School
Boston Campus
1 Education Street
02141
Cambridge
,
Massachusetts
,
USA
San Francisco
Hult International Business School - San Francisco Campus
Address
Hult International Business School
San Francisco Campus
1355 Sansome Street
94133
San Francisco
,
California
,
USA
Dubai
Hult International Business School - Dubai Campus
Address
Dubai Campus Dubai Internet City PO Box 502988, U.A.E.
Dubai
,
Dubai
,
United Arab Emirates
Shanghai
Hult International Business School - Shanghai Campus
Address
4F, Hua Xin Hai Xin Building No.666 Fuzhou Road, Huangpu District, Shanghai
200001
Shanghai
,
Shanghai
,
China
New York
Hult New York - Rotation Center
Address
New York Rotation Center
Hult Staff, Room 901
41 Cooper Square
10003
New York
,
New York
,
USA