Towson University - College of Business & Economics
Home ›
USA ›
Towson University - College of Business & Economics
Premier
The College of Business and Economics, located in historic Stephens Hall, is accredited by AACSB International-The Association to Advance Collegiate Schools of Business — in both its accounting and business administration programs. This designation places the college in the top one percent of business schools worldwide and the top 10 percent in the United States. Offering both undergraduate and graduate programs, the college provides a comprehensive business education firmly grounded in liberal arts.
Applied
While earning a degree is essential to entering the business world, the skills needed to be successful in any career can't all be taught in the classroom. At the College of Business and Economics, the philosophy of applied learning is at the core of all our programs. Understanding the value and necessity of hands-on experience, the college offers the one-of-a-kind Business Excellence program designed to prepare students to enter their careers. Through this program, students gain the knowledge, skills, and attitudes (KSAs) in the classroom to learn the basics of professional development such as giving powerful presentations, communicating ideas effectively and working in teams. Our students then engage in quality internship experiences in professional settings. Through this approach of applied skills and knowledge, all of our students graduate having already taken the first steps in their chosen career paths. Along with the internship program, students also apply leadership and teamwork to engage with the campus community and beyond through the college's 18 student organizations.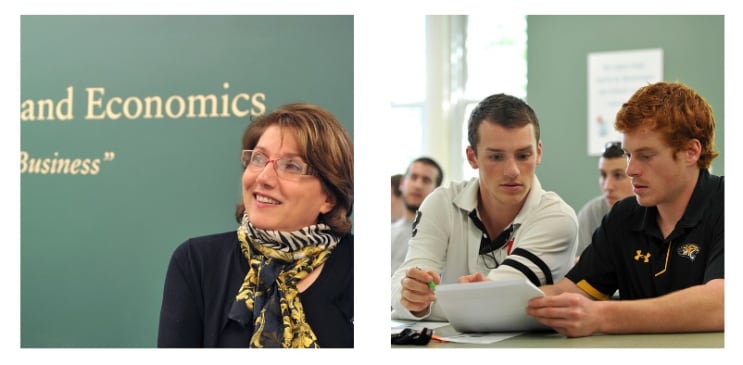 Comprehensive
Whether students are pursuing a general career in business or have their eyes on more specific paths, the college provides the foundational knowledge to be successful in today's business world while allowing students to explore in-depth study for their specific areas of interest. With four undergraduate majors, six combined majors, two minors, as well as numerous concentrations, the college provides a comprehensive yet diverse spectrum of academic programs. With the support of the support of our distinguished faculty, students can chart their educational route that will lead them to meet their goals.
Vision, Mission & Values
Vision Statement To be recognized as the business college of choice for students, faculty, and organizations in our region. Mission Statement The College of Business and Economics develops high quality and innovative programs and resources, connects theory to practice in curricular, extra-curricular and research activities and transforms students who will have a positive impact within Maryland and beyond. Core Values We embrace a culture of striving for excellence, learning, ethical behavior, civility, diversity, inclusion, creativity, and engagement. Profile of a Candidate As a premier school of applied business learning, the College of Business and Economics prepares its graduates to achieve excellence in their professional careers. The College of Business and Economics' combination of rigorous academic studies and hands-on business experience—all subject to strict measures of performance— develop the following Knowledge, Skills, and Attitudes (KSAs) that are the foundation for professional success:
Accredited Business Knowledge
Know, apply and integrate the content of one's major Communication
Write articulate, persuasive and influential reports, proposals, letters
Make articulate, persuasive and influential oral presentations
Develop graphic, spreadsheet, and business analysis to support position taken
Engage in active listening in individual and group settings
Thinking: Critical and Creative
Identify problems and/or opportunities using disciplinary concepts
Generate and evaluate feasible alternatives
Develop comprehensive, justified conclusions and recommendations using qualitative and/or quantitative tools
Technology Use general and discipline-specific software for state-of-the-practice business applications Leadership and Teamwork
Focus on goal achievement
Guide team toward the achievement of common goals
Maintain group cohesion, follower satisfaction, and efficient operations
Ethics and Values
Display ethical conduct and honor-system behavior
Apply ethics in business decision-making, considering the impact on multiple stakeholders
Attitude and Practical Excellence
Be attentive, proactive and ready to learn
Meet commitments and complete tasks according to assigned requirements
Treat others with respect; show sensitivity to their views, values, and customs
Marketability
Show evidence of a quality, mentored, reflective professional experience
Demonstrate effective job search: career portfolio, resume and interview skills
Assume responsibility for one's own career management and goal-setting
Locations
Towson
Address
8000 York Road
21252
Towson
,
Maryland
,
USA
Accreditations