Pepperdine University GSEP does not offer full scholarships. You can read more about the available opportunities for new students here. Pepperdine University GSEP also offers graduate assistance, teaching assistance, and research assistance opportunities. GSEP does not provide tuition reimbursements.
The Pepperdine University Graduate School of Education and Psychology is part of a pioneering tradition. We value academic excellence, innovative leadership and work that serves the greater good.
The First to Offer

A Model for Success
GSEP students prepare to make a difference through practicums, internships, and state-of-the-art on-campus clinics - experiential learning to a higher degree.
GSEP Hands-On Learning by the Numbers - 2014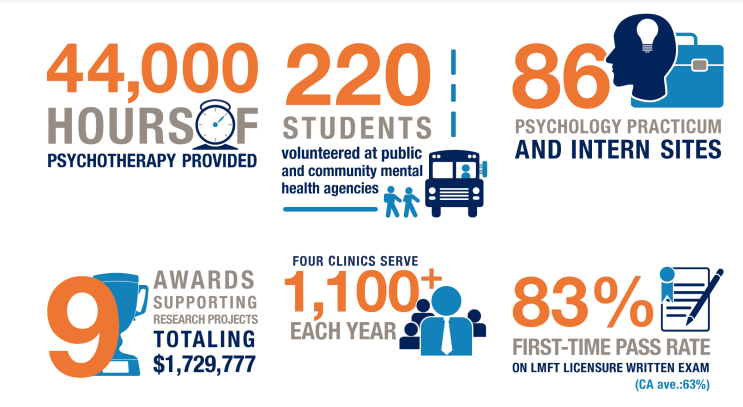 Our Programmes
GSEP offers 6 master's programs, 4 doctoral programs, and continuing education programs for working professionals.
Locations
Access an exceptional education at multiple campuses throughout Southern California, as well as online.
Faculty
At GSEP, students interact with faculty who are scholars with professional experience in their fields.
Mission
The Pepperdine University Graduate School of Education and Psychology (GSEP) is an innovative learning community where faculty, staff, and students of diverse cultures and perspectives work collaboratively to foster academic excellence, social purpose, meaningful service, and personal fulfillment.
As a graduate school within a Christian university, GSEP endeavors to educate and motivate students to assume leadership roles in professions that improve and enrich the lives of individuals, families, and communities.
At GSEP we embrace human diversity—which we believe to be the natural expression of God's creation—in our work to advance learning and service. GSEP advances, sustains, and advocates for multicultural proficiency.
The strategies for accomplishing this mission are:
Promoting discourse that values each member's background, experiences, and perspective;
Recruiting, retaining, and advancing diverse students, staff, and faculty;
Developing curricular models for practice in educational and psychological environments; and reaching out to broader communities to promote understanding and facilitate solutions to diversity challenges.
Our spirit, energy, and actions will be an inspiration to education and psychology communities.
Locations
Los Angeles
Address
Howard Hughes Center
6100 Center Drive,
90045
Los Angeles
,
California
,
USA
Los Angeles
Address
24255Pacific Coast Highway
90263
Los Angeles
,
California
,
USA
Irvine
Address
Lake Shore Towers lll
18111 Von Karman Avenue
92612
Irvine
,
California
,
USA
Los Angeles
Address
16830 Ventura Boulevard
Suite 200
91436
Los Angeles
,
California
,
USA
Los Angeles
Address
Westlake Center Plaza II
2829 Townsgate Road Suite 180
Westlake Village
91361
Los Angeles
,
California
,
USA