Where Leadership is Earned™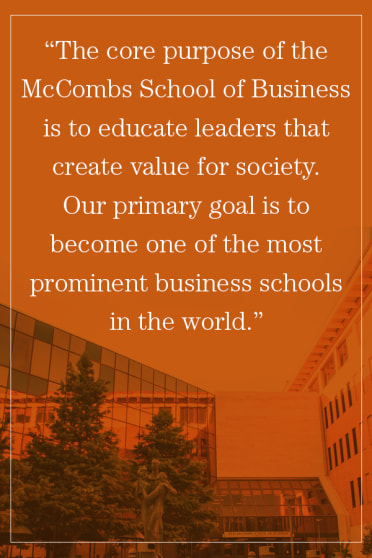 One of the largest and most distinguished business schools in the country, the McCombs School of Business at The University of Texas at Austin is dedicated to educating the business leaders of tomorrow while creating knowledge for industry and society. Rankings tell only part of the story of what makes McCombs so great, but it's a good beginning. We're one of the few schools in the country to receive top marks in nearly all the business specialty areas ranked annually by U.S. News & World Report—at both the undergraduate and graduate levels.
McCombs educates more than 6,000 undergraduate, MBA, MPA, and Ph.D. students each year, creating one of the largest cumulative impacts of any business school in the world. About 2,000 professionals also participate each year in custom programs designed for working executives and their firms. These programs are held in our first-class AT&T Executive Education and Conference Center.
The McCombs School of Business is aligned with the university's initiative to pursue a new vision for higher education while educating leaders who will create value for society. Our vision is to become one of the most prominent business schools in the world; in the coming years, our strategic plan will focus on seven initiatives to reach our goal.
Teaching Excellence
Ask McCombs students about their favorite aspects of the school, and invariably they cite the quality and accessibility of the faculty. This dynamic group of knowledge leaders is known for generating relevant business research (we're among the most productive research schools in the country) with teaching that challenges and elevates. McCombs faculty members don't just cover the standard business cases, they are creating business knowledge.
Center for Teaching Excellence
One initiative for the school includes increasing support for teaching excellence with the creation of an institutional unit to support faculty efforts at enhancing teaching effectiveness. The Center for Teaching Excellence will facilitate faculty collaborations through formal mentoring programs, peer-to-peer communications, visiting teaching fellows opportunities and other initiatives.
McCombs Teaching Fellows
The McCombs Teaching Fellows distinction will be created to honor the best teachers among faculty. Currently, eight faculty members are part of the University's Academy of Distinguished Teachers. McCombs has also been a leader in providing experiential educational opportunities including 366P Practicum Courses and the Leadership Program at the undergraduate level, the Investment Fund and the Marketing and Venture Fellows Programs at the MBA level and the MPA tax practicum.
Societal Challenges
The world's most prominent business schools confront important human challenges and expertise is pulled together to produce research and programming of contemporary social relevance. The McCombs School of Business is uniquely positioned to contribute to the dialogue surrounding two of the world's most vexing problems, energy sufficiency and sustainability and innovation and creativity.
The cities that host McCombs's academic programs have significant strengths in traditional and alternative energy production and generation. Texas is the nation's leader in crude oil and natural gas production as well as wind power generation and Austin is an emerging technology hub for innovative forms of energy provision and conservation.
Community
The goals of the McCombs School of Business can only be achieved within a fully engaged and purposeful community. For McCombs, this community includes faculty, staff, students, benefactors, and alumni.
This campus and the people who teach and study here will amaze you. Our students share the classroom with talented and diverse individuals from every part of the globe in a collegial learning environment that was identified by one student as "cooperative competition." Learning starts in the classroom but continues in the school's student-centered study facilities, across the beautiful campus of The University of Texas at Austin, around the city, and through hands-on projects for firms in Texas and the world. Probably at no other time in your life will you experience such a complete immersion in an environment of excellence, learning and life advancement.
Our City
Austin used to be a pleasant surprise for business students and visitors from out of state, but the city's great weather, friendly atmosphere, and thriving economy are no longer secrets. In May 2010, Kiplinger's named Austin
Demographers call Austin a "City of Ideas," one of a handful of American regions where a new creative class of entrepreneurs, business leaders, artists, and visionaries are reshaping the model for American prosperity.
A well-educated workforce, a world-class research university, a favorable business climate, a reasonable tax structure, and an outstanding quality of life are the top five reasons why companies choose Austin. Over 800 semi-conductor, energy, computer, and software companies call Austin home. Other industries, such as biosciences, multi-media, film, music and logistics and distribution are well-represented and growing.
Visit our website here.
Locations
Austin
Address
2110 Speedway, b6000
TX 78705
Austin
,
Texas
,
USA