About Lehigh
A Vibrant, Dynamic Campus Community
Located in Pennsylvania's beautiful Lehigh Valley, Lehigh is one of the nation's most distinguished private research universities. Through academic rigor, an entrepreneurial mindset and collaborative opportunities we challenge our students to become the leaders of the future.
Undeniably Lehigh
For over 150 years, Lehigh has had its eye on the future, redefining what it means to lead every step of the way.
Welcome to the College of Arts and Sciences
As Lehigh's largest and most diverse college, we are home to the social sciences, arts, humanities, and natural sciences. With 1,894 undergraduate students, 342 graduate students, 270 full-time faculty and 90 professional staff, we are comparable in size and offer the intimacy of a liberal arts college, yet benefit from the resources of a research university. Our faculty are accomplished scholars, artists, and writers, recognized nationally and internationally as leaders in their fields, who share a commitment to the integration of teaching and scholarship into innovative, dynamic curricula set in an intellectually stimulating environment.
Our undergraduate and graduate programs prepare students for the complexity of the world they will discover upon graduation, where they will find competing visions and values which they must work to understand and to which they must respond effectively. The college is a space for vigorous dialogue. We train students to anticipate and lead change, to view challenges as opportunities, to turn knowledge into action, and to make a difference in the world. We seek to maximize student growth and development while placing the individual in the broader context of human culture and the natural world. Our classrooms extend beyond four walls to the broader community and to countries spanning the globe.
"Regardless of your aspirations, the programs in the College of Arts and Sciences will challenge your assumptions, broaden your abilities, and expand your prospects."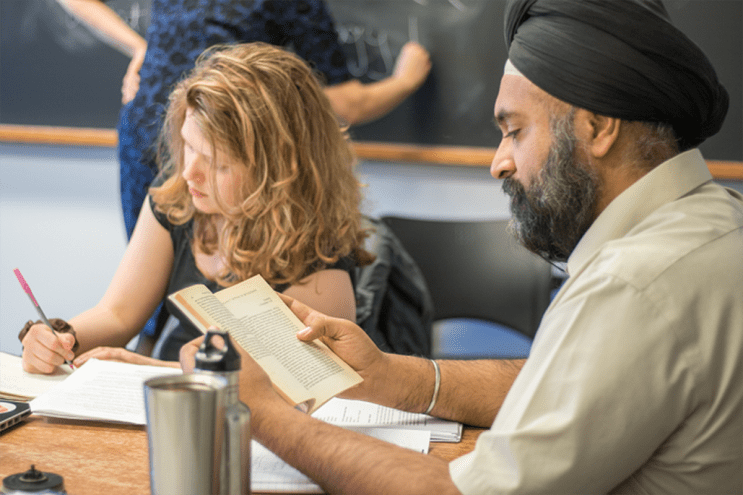 Explore our world. Discover yourself.
In the College of Arts and Sciences, students learn, grow, share ideas, and develop a sense of direction that lasts a lifetime. The college provides a learning environment that engages students with faculty who are driving the intellectual development of their disciplines. Regardless of your aspirations, the programs in the College of Arts and Sciences will challenge your assumptions, broaden your abilities, and expand your prospects. Be part of a lifelong learning environment that offers you new academic paths, new personal directions, and ever-increasing possibilities. Whether it's to advance your career goals, find new horizons, or nurture your soul, discover the programs that engage, enrich, inform, challenge, and inspire.
The Importance of Diversity
The College of Arts and Sciences is a community of scholars and educators who share a passion for the pursuit of knowledge and the expansion of our understanding of the world. We seek a community of faculty, staff, and students reflective of society at large. Diversity is a critical component of academic excellence and is essential to fulfilling our dual mission in education and research. We learn best when we are exposed to perspectives, experiences, beliefs, and views different from our own. This is most easily accomplished in a richly diverse environment. The world today is interconnected and interdependent. We are most successful in life when we embrace and celebrate the talents and abilities of all members of our society. In vigorously but respectfully exploring both our differences and our commonalities, we foster understanding and more civil society.
We've made available on this site a great deal of information about life in the College or Arts and Sciences at Lehigh. You'll find links to our departments and the many interdisciplinary programs and research centers that engage faculty and students alike. I hope that you will explore and discover the opportunities offered by the College of Arts and Sciences.
Robert A Flowers
Herbert and Ann Siegel Dean
College of Arts and Sciences
Locations
Bethlehem
Address
Lehigh University,
College of Arts and Sciences,
9 West Packer Avenue
PA 18015
Bethlehem
,
Pennsylvania
,
USA