California State University, East Bay
Home ›
USA ›
California State University, East Bay
Quick Overview
For more than 60 years, Cal State East Bay has served the San Francisco Bay Area as part of the California State University system, the largest system of public higher education in the United States. CSUEB is known for award-winning programs, expert instruction, small classes and a highly personalized learning environment. The university is located in the beautiful and culturally diverse San Francisco Bay Area, where our students benefit from professional development and career opportunities in Silicon Valley and Northern California.
CSUEB is nationally recognized as among the most diverse universities in the US, with international students from over 60 countries representing more than 8% of total enrollment.The school offers undergraduate degrees in 49 fields and graduate degrees in 30 areas.
On-campus housing is safe, convenient and comfortable, in spacious fully-furnished apartments. Our park-like campus in the Hayward Hills overlooking San Francisco Bay is in a residential area, giving the comfort and security of a family community.
Students can choose from more than 120 academic, athletic, honor, religious, recreational and cultural clubs and organizations as well as participate in NCAA Division II sports, student government and community service.
Colleges
College of Business and Economics
College of Education and Allied Studies
College of Letters, Arts, and Social Sciences
College of Science
Degree Programs
Bachelor of Arts, Bachelor of Science, Bachelor of Fine Arts, Bachelor Online Degree Completion Programs, Minors, Master of Arts, Master of Science, Master Online Degree Programs, Master of Business Administration (MBA), Master of Public Administration, Master of Social Work, Credential Programs, Single Subject Matter Preparation and Certificate Programs, Doctorate in Education
49 bachelor's degrees, 51 minors, 34 master's degrees, 24 credentials and certificates, 1 doctoral degree
Most Popular Undergraduate Majors
Business Administration, Computer Science, Health Science, Industrial Engineering, Kinesiology, Criminal Justice, Biology, Biology, Sociology, Pre-Nursing, Human Development.
Most Popular Post-Baccalaureate Programs
Business Administration, Business Analytics, Computer Science, Construction Management, Engineering Management, Health Care Administration, Social Work, Statistics, Public Administration, Speech-Language Pathology, Counseling and Guidance, Educational Leadership.
Non-Degree Programs
The on-campus American Language Program offers intensive English language study as preparation for university study. A wide variety of certificate and gateway programs — including conditional admissions for undergraduates, the pre-MBA program, and International Business diploma— offer excellent opportunities for professional and academic advancement. Through the Visiting Student Program, International Students can choose to study abroad in California for a summer, a semester or a year.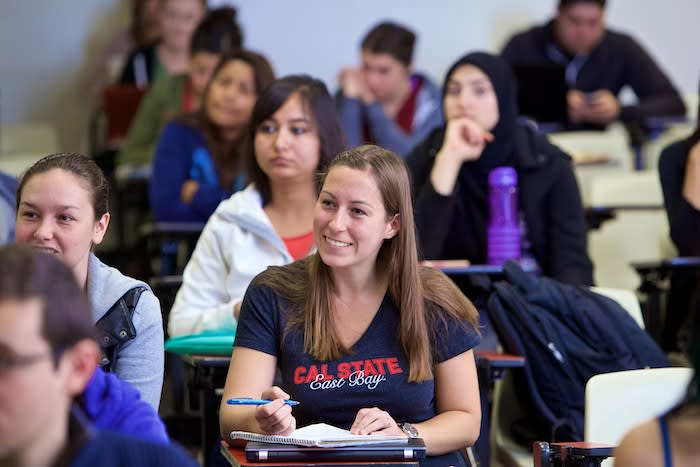 Distinguished Faculty
Cal State East Bay has garnered national acclaim for the excellence of its faculty and our professors are dedicated to your success -- in the classroom and beyond. Our location in the midst of the vibrant San Francisco Bay Area enables us to attract committed faculty members who are not only recognized experts in their fields, but are often world-renowned in their disciplines, including the fields of business, technology, public service, the arts and education. This allows us to offer you a strong academic course of study and a real-world curriculum that will prepare you for a lifetime of personal achievement and career success.
Practical Training Opportunities for International Students

At California State University, East Bay, our goal is to prepare students for future careers.Cal State East Bay's location in the hills overlooking the San Francisco Bay provides more than just a great view; it also places our students in the ideal location for career development just a 30-40 minute drive from San Francisco and Silicon Valley where each year hundreds of our students get practical training in start-ups, tech giants, local organizations and international companies based in the Bay Area. CSUEB offers both undergraduate and graduate programs in 24 approved STEM fields, including Business Analytics, Computer Science, Industrial Engineering, Engineering Management, Multimedia/Interaction Design, and Statistics. Graduates of these programs may be eligible to apply for the 2-year STEM OPT extension.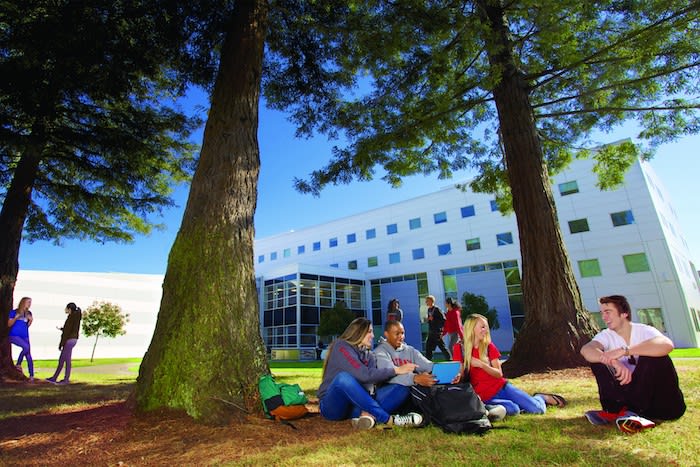 University History
Cal State East Bay has come a long way in the last 60 years — it's had five presidents, gone by five different names and produced thousands of graduates who have entered the region's workforce.
The university was originally named the State College for Alameda County when it was officially established by the California State Assembly in 1957. Groundbreaking ceremonies for the current Hayward Campus were held in February 1961 and the college moved to its permanent location in Fall 1963. A pioneering spirit pervaded campus in the idealistic months before President John F. Kennedy was assassinated in November 1963, born of identification with Kennedy's New Frontier programs. Hence the student body chose to call themselves Pioneers, and the first Pioneer mascot was an astronaut from NASA's Pioneer Space Program.
The campus expansions of the 1960s came to fruition in the early 1970s with several new buildings opening, including the Library and Administration buildings, the University Theatre and Robinson Hall in 1971, and the Student Health Center in 1973. Pioneer Heights, the first university-owned student housing on campus, opened its doors in 1987. Accommodating 400 students, Pioneer Heights would challenge the reputation of the university as a "commuter school" and provide a new nucleus of student life on campus.
The university expanded its reach to Contra Costa County in 1992, opening a satellite campus in Concord, and then changed its name to California State University, East Bay in 2005 to reflect its new regional positioning. The university's three campuses — named the Hayward campus, the Concord campus and the Oakland Center — reinforced the regional influence of the university.
In the mid-2000s, new construction blossomed on the Hayward campus, with the contruction of the Valley Business and Technology Building and the Recreation and Wellness Center. Due to seismic vulnerability, Warren Hall, which had been the university's signature building for decades, was demolished August 17, 2013 and was subsequently replaced by the new Student Administration and Student & Faculty Support buildings.
As the university continues to grow, it is known in particular for its diversity. From 2015-2017, The Chronicle of Higher Education's Almanac designated the Cal State East Bay student body as the most diverse in the mainland United States.
* Information on the university's history was provided from the library's 60th Anniversary exhibit
Mission Statement
Cal State East Bay welcomes and supports a diverse student body with academically rich, culturally relevant learning experiences which prepare students to apply their education to meaningful lifework, and to be socially responsible contributors to society. Through its educational programs and activities, the university strives to meet the educational needs and to contribute to the vitality of the East Bay, the state, the nation, and global communities.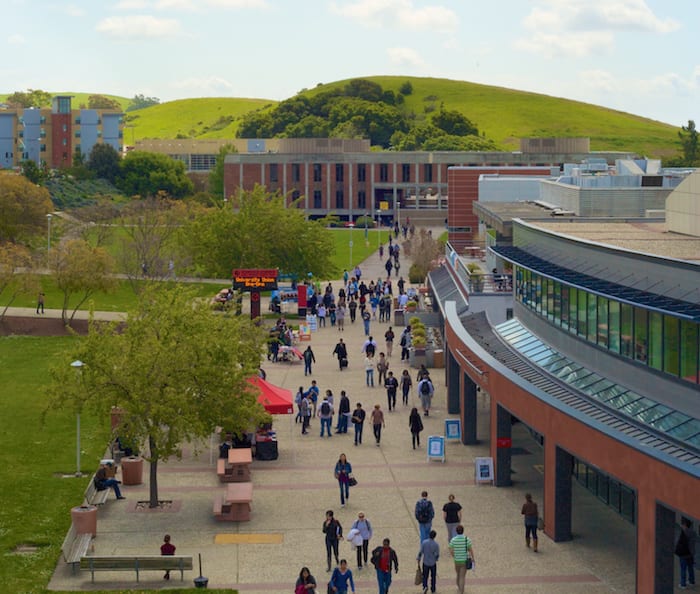 Locations
Hayward
Address
Carlos Bee Boulevard,25800
94542
Hayward
,
California
,
USA