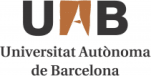 Autonomous University of Barcelona (UAB)
Home ›
Spain ›
Autonomous University of Barcelona (UAB)
We offer:
quality postgraduate courses that provide training in new and emerging sectors and equip active workers with the skills that will help them get ahead in their career; innovative high-quality, exacting courses that are characterised by their strong practical content; the chance to study for diplomas, degrees, technical qualifications and postgraduate courses in all areas of knowledge.
Students can participate in many international travel and exchange programmes and complete their studies in different universities of Europe, Latin America and Asia.
The UAB campus is located in an area of outstanding natural beauty. Its infrastructure, created exclusively for university life, offers different academic, cultural and social activities.
The campus provides a combination of services covering everything students need in their academic lives (libraries, IT network, language services, etc.), their leisure time (sports facilities and cultural groups) and their ordinary day-to-day lives (shops, healthcare centre, etc.).
Our collaboration agreements with institutions and companies allow students to gain practical experience while they study. We also manage our own jobs portfolio and work in association with the Catalan Employment Service.
We encourage our students to actively participate through volunteer programmes, social projects and international cooperation programmes. The UAB also assigns 0.7% of its income to cooperation and development projects.
The research work carried out at the UAB is recognised around the world. The establishment of leading research centres on campus ensures the interaction and transfer of knowledge, providing the UAB with the latest teaching resources at all times.
Locations
Barcelona
Address
Bloque E, Oficina 1
08196 Bellaterra (Cerdanyola del Vallès) España
Barcelona
,
Catalonia
,
Spain