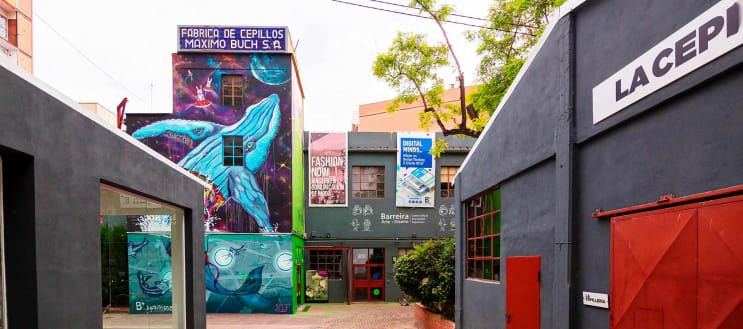 To choose to study in Barreira AD is to choose to enter a different, diverse, creative environment; an environment where you can be who you want, because students and teachers not only respect the difference, but also the construction of personality, talent and the voice itself.
Barreira AD, with more than 60 years of experience, teaches Fashion Design, Graphic Design, Interior Design, 3D Animation, Videogames Design and Cinema in different official programs - middle and higher degrees, higher studies equivalent to University Degree - and in International masters , with a method based on applied knowledge: our students learn as they work on creative projects with real correspondence in the professional sector they are targeting.
Our classrooms and workshop classrooms are equipped with the latest technological means so that the student has at his disposal the tools with which he will work when he finishes his studies at the center.
Because if something is sought in Barreira AD, in addition to developing individual and collective talent, it is to prepare our students and students in such a way that they leave the labor market with the guarantee that what they have learned will allow them to choose to work at Highest level thanks to the differences that make them unique. That make them more.
What is 'BE MORE' for us?
BE MORE is not just Barreira AD, it's you. People like you who have believed in choosing a different path, all those people who thanks to their creativity are creating a better world. You who have put aside the conventional and have opted for yourself, for being more.
If you choose to dream rather than conform, if you choose the innovative instead of the common, if you choose to transform, if you choose to create, ... you choose to BE MORE.
Study in Valencia (Spain)
Valencia is the third most important city in Spain, it will be the World Capital of Design in 2022, and it is the European destination that receives more foreign students, and it does not surprise us: the capital of the Valencia Community bathed by the Mediterranean provides a great quality of life to its inhabitants, the usual and the occasional. Safe, warm, friendly, green, cultural, alive, well connected: living in Valencia is an experience marked by light, joy and opportunities for personal and work growth that the city offers.
Teaching method
The Barreira AD methodology is essentially based on student excellence.
We differentiate ourselves by inserting our students into the best jobs thanks to the following pillars:
The best teaching team. It is our badge, and the most praised of our center. We have active professionals, who occupy a position of great relevance within the world of design, and certainly offer the student a real and elite vision, guiding them in their future professional career, expanding their network of contacts, and even supporting their real professional projects.
Agreements with companies. Barreira AD offers 3 positions in professional practices for each student, in addition to real projects and workshops. We have an extensive network of agreements with high-level and reputable companies, such as: IKEA, Porcelanosa, Samsung, Google, Fantasy, Centro Sperimentale di Cinematografia, Agatha Ruiz de la Prada, Dolby Labs, Polimoda, Istituto Marangoni, Habitat, IBM , AMIN, Leroy Merlin, SKY Television, El Corte Inglés, CANADA, HBO Spain, Ogilvy, Telva, Casual Hotels, 3D Doubles, NUKE, ...
Professional reality. The student from the first day that begins in Barreira AD is training in real professional aspects. Both contact with professionals, realization of real projects for companies where they nurture their knowledge at the same time as their CV.
Internationalization It is vital that our students have different perspectives, that they feed on different cultures and that all doors have them open. Therefore, all the training programs of Barreira AD integrate training trips, teachers and international projects (CUMULUS, ELIA, ERASMUS).
Innovation. The constant commitment to teaching innovation and the use of new technologies as fundamental support.
Locations
Valencia
Address
Gran Vía Fernando el Católico 69
Valencia
,
Valencian Community
,
Spain