Ventspils University of Applied Sciences
Home ›
Latvia ›
Ventspils University of Applied Sciences
Read more on the school's website
Ventspils University of Applied Sciences – Education For Tomorrow!
VENTSPILS UNIVERSITY OF APPLIED SCIENCES – EDUCATION FOR TOMORROW!
Ventspils University of Applied Sciences (VeUAS) is a modern state higher education institution, which is developing in a dynamic manner, guaranteeing the possibility for students to acquire quality higher education and professional skills, and carrying out significant research work, for which the university has become internationally recognized.
The mission of Ventspils University of Applied Sciences is to provide high-quality, up-to-date education corresponding to the current educational trends both in Europe and the world and to organize and develop a flexible educational system that implements principles of lifelong learning.
VeUAS was founded in 1997.
In 2013, VeUAS acquired scientific institution status.
Student-to-teacher ratio is just 5 students for every teacher.
Average class size is about 20 students.
Our faculty has experience with organizations in the EU and all over the world such as:
üFBI;
üMicrosoft;
üSkype;
üNASA, etc.
Why Choose Us?
Ventspils University of Applied Sciences is located in the seaside town of Ventspils, Latvia. Latvia is a country in Northern Europe, a member of the European Union and the Eurozone. Latvia is not only at the very heart of Baltic States, it is also an interesting cultural point where the West meets the East. Latvia is a safe and international student-friendly environment, with high living standards and low living costs.
Reasons to study in Ventspils University of Applied Sciences:
·high quality study environment;
·scholarship opportunities;
·a personal approach to every student from professors and staff;
·Erasmus+ programme (scholarship sponsored study abroad and internship opportunities);
·excellent campus with a cozy atmosphere - living and learning all on campus;
·location near the Baltic Sea;
·placed in clean and beautiful city where everything is within walking distance – beach, parks/green spaces, cinema, restaurants, water attraction park, etc.
·different sports and other activities available free of charge;
·memorable study experience;
·the opportunity to meet new people from all over the globe;
·easy to explore Latvia and other EU countries in spare time!
Mission
To develop and maintain qualitative and modern higher education and scientific research, and provide good functional interaction of them in its academic fields of action – management, applied linguistics, computer science, information technology, engineering and radio astronomy.
Vision
Continuing to establish VeUAS as a technology- and development-oriented modern university college for its students and academic staff in order to extend its activities beyond the borders of Latvia and become an internationally acclaimed higher education institution in the Baltic region.
Providing a significant contribution to the development of science in all of its fields of operation and ensuring the competitiveness of its graduates.
Making steps towards becoming a university-type higher education institution and gradually acquiring an official university status.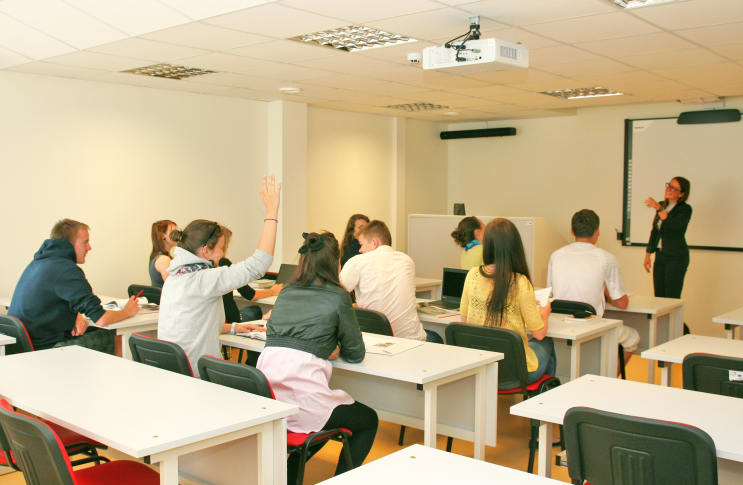 Cooperation with Companies and the Local Government of Ventspils
VeUAS provides the institutions and companies of the Kurzeme region and Ventspils City Council qualified employees, as well as offers lifelong learning opportunities for everyone.
The Local Government of Ventspils provides the funding to attract highly qualified academic personnel and high-level specialists of the field, scholarships for doctoral students, scientific and methodological publications, co-financing of different projects, cultural events, and sports activities for students.
Locations
Ventspils
Address
Inženieru iela 101

LV-3601
Ventspils
,
Latvia