The University of Udine was founded in 1978 as part of the reconstruction plan of Friuli after the earthquake in 1976. Its aim was to provide the Friulian community with an independent center for advanced training in cultural and scientific studies.
The University currently has the following degree programs in Agriculture, Economics, Engineering, Law, Modern Languages, Communication and Training, Humanities, Medicine and Surgery and Mathematics, Computer Science and Multimedia.
The University is actively involved in student and staff exchange projects with universities within the EU and is currently engaged in close collaboration with several universities from Eastern Europe and other non-EU countries. Moreover, the University participates in many research projects at national and international level. The present number of students enrolled at the University is approx. 17000.
Udine and its University are a point of reference in a region which is historically a meeting place and crossroads of different worlds and cultures. Geographically situated in the center of the European Union, the University of Udine plays an active role in a close network of relations, committed to sharing its knowledge and ideas. Since its establishment, Udine University has pursued the policy of internationalization, aimed at preparing students and forging relations and partnerships with universities and institutions in Europe and the rest of the world.
Udine University collaborates not only within Europe but across the globe and has long-standing connections with Africa, India, and China.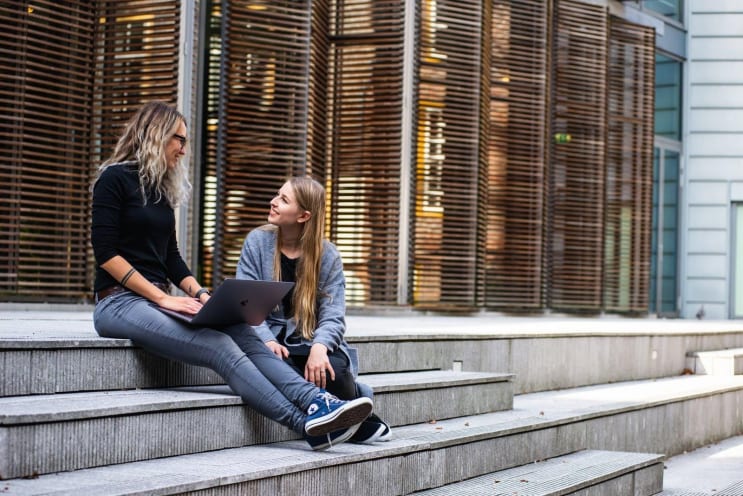 Buro Millennial / Pexels
Why UNIUD
UNIUD is a young dynamic university whose mission, since its foundation in 1978, has been to promote higher education by imparting knowledge and generating new ideas at the cutting edge of society.
The key to our success at both the national and international level is the quality and enthusiasm of all of its components.
We value merit
Every year the best graduates of the University are awarded grants that include tuition reductions for enrollment in master degree courses and facilitation in job placement programs.
Mind-Fully
UNIUD offers various services to ensure the well-being of its students, so as to assist those who have problems adapting to university life or those who encounter difficulties during their studies. They comprise free laboratories for anxiety management, study methods, effective communication skills, mindfulness, and meditation.
Learning at the heart of Europe
Udine University, situated in Udine, a town in the region of Friuli Venezia Giulia, north-eastern Italy, is in the very heart of Europe. UNIUD and Udine have a relaxed student-friendly atmosphere and are within easy reach of many places of interest in Italy, Europe and beyond.
Living Spaces
At the heart of your university experience, you will find great accommodation, facilities, student support, and social life. The campuses are all spacious, with plenty of gardens and green areas.
The libraries are well-equipped, so you can sit and study in peace. There is accommodation at student halls of residence, or if you prefer you can rent a flat in town. You can socialize with fellow students at the coffee machine or in the canteen.
Laboratories and Teachers
At UNIUD you will find a staff of dedicated, experienced and inspirational teachers who will challenge you to achieve your best. You will work with enthusiastic researchers and lecturers in lectures, seminars, and tutorials, and you will also find time for independent study.
All students are allocated a personal tutor, who will help you solve any problems you meet. There is a vast variety of laboratories available for you: state-of-the-art science laboratories, language laboratories, and It rooms.
Locations
Udine
Address
via Palladio 8
33100
Udine
,
Friuli-Venezia Giulia
,
Italy
Pordenone
Address
Via Prasecco 3/a
33170
Pordenone
,
Friuli-Venezia Giulia
,
Italy
Gorizia
Address
Via Diaz, 5
34170
Gorizia
,
Friuli-Venezia Giulia
,
Italy
Gemona del Friuli
Address
p.le D. Simonetti, 2
33013
Gemona del Friuli
,
Friuli-Venezia Giulia
,
Italy