Fanshawe College is a large, publicly-funded College located in London, Ontario, Canada – approximately a two-hour drive from Toronto and Niagara Falls. There are 21,000 full-time students, including more than 6,000 international students from 97 different countries.

London, Ontario, Canada
The city of London has a population of approximately 400,000, and over 500,000 in the metropolitan area. It is the home to both Fanshawe College and Western University. London has amazing arts, markets, theatres and nightlife. It is known as the "Forest City" with over 200 parks and in a region surrounded by the world's largest freshwater lakes. London has an international airport and is also accessible by car, Greyhound Bus, or VIA train.
Programs
Fanshawe offers more than 200 academic programs, ranging from two-year diplomas and three-year advanced diplomas to post-graduate programs (one year) and honours bachelor degrees (four years).
https://www.fanshawec.ca/international/new-applicants/programs-international-students
Admission Requirements
Take a look at our Admission Requirements here: https://www.fanshawec.ca/international/new-applicants/programs-international-students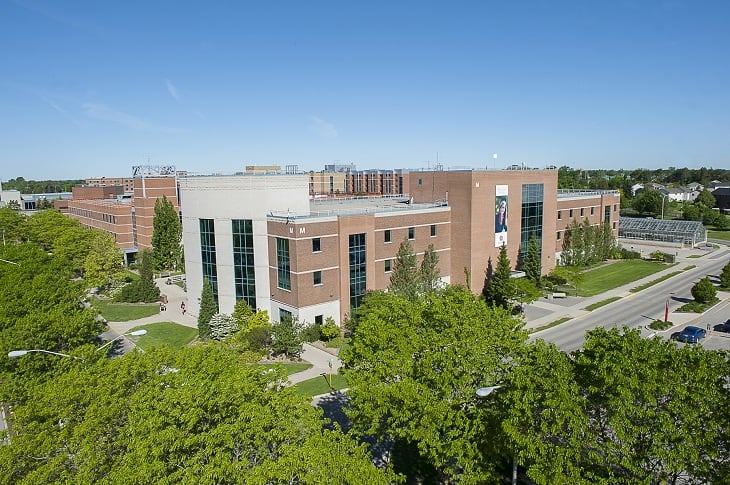 EAP – English for Academic Purposes
For students who would like to study English first, Fanshawe offers an EAP program (English for Academic Purposes). There are ten levels in the EAP program, which run for eight weeks at a time. A free practice test is available, so students can estimate which level makes the most sense.
https://www.fanshawec.ca/international/new-applicants/eap
Fanshawe Grads get Jobs
According to the most recent KPI (Key Performance Indicators) survey results, Fanshawe's graduate employment rate of 87.6% exceeds the provincial average by two per cent. When surveyed six months after graduation, 80.2% of Fanshawe alumni report being pleased with their college education – and 94.2% of employers are satisfied with the skills and contributions of Fanshawe graduates.
Fanshawe Cares
Fanshawe offers an Arrival Services package called Fanshawe Cares for all new international students. Fanshawe Cares includes:
Airport Greeting Service run by student ambassadors;
Transportation shuttle service from Pearson Airport in Toronto to London, Ontario;
Two nights accommodation provided (if needed);
Assistance with finding a place to live and opening a bank account (if needed).
Also, as part of the Fanshawe Cares program, the International Centre hosts a Welcome Session each semester to get you acquainted with the College and its services as well as to connect you with other international students.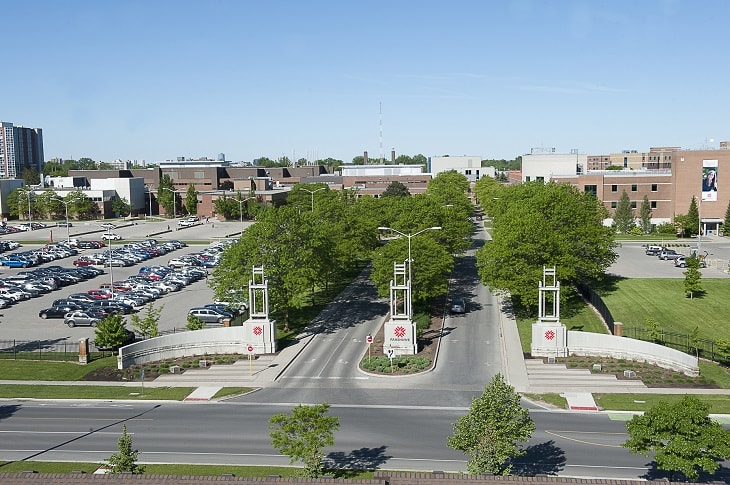 Scholarships
Fanshawe offers $5 million in scholarships, awards and bursaries each year. There are opportunities exclusively for international students, like entrance scholarships.
https://www.fanshawec.ca/paying-college/financial-aid-student-awards/awards/international-awards
Extras
All full-time students in London Oxford Street campus receive a full-time LTC bus pass, membership to the Student Wellness Centre, and health and dental coverage through Morcare. There are many clubs and sports teams at Fanshawe – for players and for fans!
Locations
London
Address
London Campus
1001 Fanshawe College Blvd.
London, ON N5Y 5R6
Canada
London
,
Ontario
,
Canada
Simcoe
Address
Simcoe/Norfolk Regional Campus
634 Ireland Road
Simcoe, ON N3Y 4K8
Canada
Simcoe
,
Ontario
,
Canada
Saint Thomas
Address
St. Thomas/Elgin Regional Campus
120 Bill Martyn Parkway
St. Thomas, ON N5R 6A7
Canada
Saint Thomas
,
Ontario
,
Canada
Woodstock
Address
Woodstock/Oxford Regional Campus
369 Finkle Street
Woodstock, ON N4V 1A3
Canada
Woodstock
,
Ontario
,
Canada
Clinton
Address
169 Beech Street
N0M 1L0
Clinton
,
Ontario
,
Canada