FH Kufstein Tirol - University of Applied Sciences
Home ›
Austria ›
FH Kufstein Tirol - University of Applied Sciences
The FH Kufstein currently has 2200 students from more than 50 nations who create an international, multicultural atmosphere. The fact that we have more than 210 partner universities worldwide means that more than 200 international incoming students are hosted by the FH Kufstein annually and that an even larger number of our students go out for a semester or year to study abroad.
(c) FH Kufstein Tirol


What's more, with approximately 500 contracted lecturers, the FH Kufstein plays a significant role in the regional economy. The range of bachelor and master degree programs – offered in both full- and part-time formats – have been conceived to meet the professional demands of the respective industries. The FH Kufstein has also developed a postgraduate program in cooperation with several internationally renowned partner universities. The graduates of our degree programs thus have excellent prospects for filling challenging positions in their field and for advancing their careers.
(c) FH Kufstein Tirol
Attractive campus in charming surroundings
The FH Kufstein resides in a building that contains modern lecture rooms and workspaces, a library and a cafeteria. The campus is located on the green, generous park area that lies adjacent to the city center. Many sport and leisure-time possibilities, as well as the nearby cultural centers and regional capital cities, generate an exciting, international flair.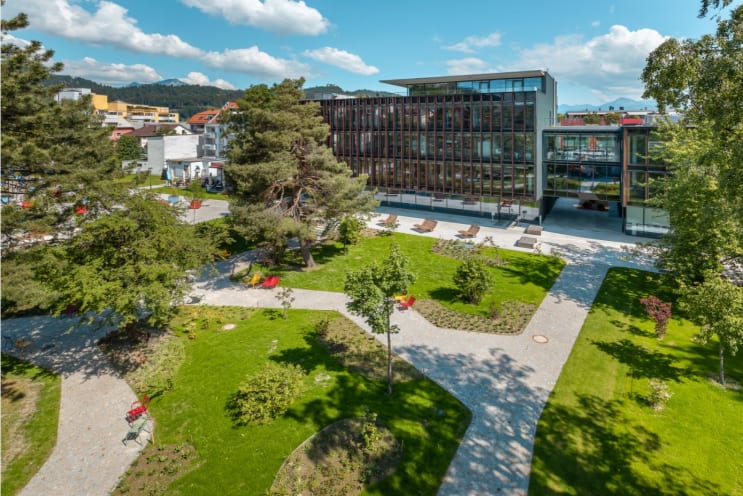 (c) FH Kufstein Tirol


Research Concept
Outstanding performance in research and development is requisite for efficient, scientifically-based teaching and learning. Thus, the FH Kufstein has established a solid R&D program which aims to promote institutional and individual competencies as well as contribute to a high level of recognition and integration in scientific and business communities. In accordance with the legal mandate for Austrian universities of applied sciences, the research and development concept of the FH Kufstein is aligned with the applied research approach. The objective is to generate scientific R&D results that contribute to the scientific knowledge base as well as sustainably enhance the competitiveness and attractiveness of the local economy.
(c) FH Kufstein Tirol
Locations
Kufstein
Fachhochschule Kufstein Tirol
Address
FH Kufstein
Andreas Hofer-Straße 7
6330
Kufstein
,
Tyrol
,
Austria