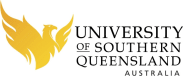 University of Southern Queensland (USQ)
Home ›
University of Southern Queensland (USQ)
USQ is offering up to 25% international student scholarships.
Read more about the scholarships offered below:

International Accommodation Scholarship
International Student Support Scholarship
International Student Support Nursing Scholarship
The University of Southern Queensland (USQ) Australia is a dynamic university dedicated to providing quality on-campus and online study programmes for students of all study levels from over 110 countries. USQ is ranked Australia's number one university for a graduate salary[1] and has a five-star rating for internationalisation and employability[2].
About Us
In over 50 years, USQ has become a prominent teaching and research institution, providing education from three campuses (Toowoomba, Springfield and Ipswich), an outreach hub (Stanthorpe), online and through trusted education partners.
Today, USQ maintains outstanding community support and provides current and relevant programmes of study to build students' careers to excel in the current competitive global environment.
USQ is a leader in its key, chosen research fields, such as agriculture, engineering, and built environment, astrophysics and health, and has been acknowledged for its achievements via the Australian Research Council's 2018 Excellence in Research for Australia (ERA) rankings. USQ has achieved ERA ratings for 18 research fields as 'well above world standard' and 12 research fields as 'above or at world standard'[3].
Programmes and Courses
USQ's campuses provide students with a community-focused and career-centred experience. Smaller class sizes allow for greater lecturer-to-student engagement and increased peer connections. Over 25 000 students from across Australia and around the world choose to study at USQ in:
Agriculture & Environment
Arts & Humanities
Aviation
Business & Management
Media & Communication
Education & Teaching
Information Technology
Law and Criminology
Nursing & Allied Health
Psychology & Human Services
Science & Engineering
Surveying & Built Environment
Visual & Performing Arts
Research
English Language & Pathway Programmes
USQ Toowoomba is a regional university campus equipped with a wide range of facilities and support services catering to student needs. It offers complete on-campus experience with residential college accommodation and a great range of student life activities complementing the academic programme.
Toowoomba's relaxed lifestyle and family-friendly atmosphere is a great choice for students wanting relief from large city life whilst still pursuing their career goals. Toowoomba is located just 1 hour and 45 minutes from Brisbane and 2 hours from the Gold Coast.
USQ Springfield provides a student-focussed educational environment with the latest in programme delivery and technology. With high-quality facilities such as digital production and performance hub and a world-class flight simulator, it has close industry ties to link students with work experience opportunities. It is located about 45 minutes from Brisbane city.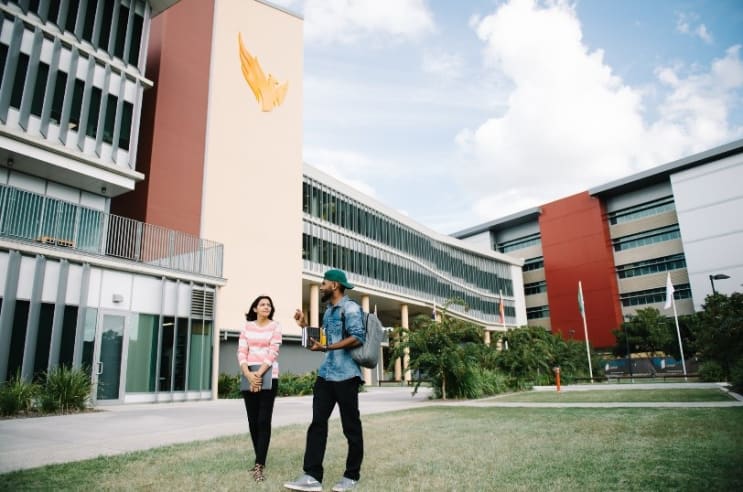 USQ Ipswich offers custom-built paramedical training facilities and new clinical nursing laboratories, a midwifery simulation centre, sports fields, café and gym. USQ has been part of the Ipswich community since 2006 and has now over 1000 students studying at this campus, featuring a stunning library with a living rainforest. USQ Ipswich is a 55-minute drive from Brisbane city and is accessible via public transport.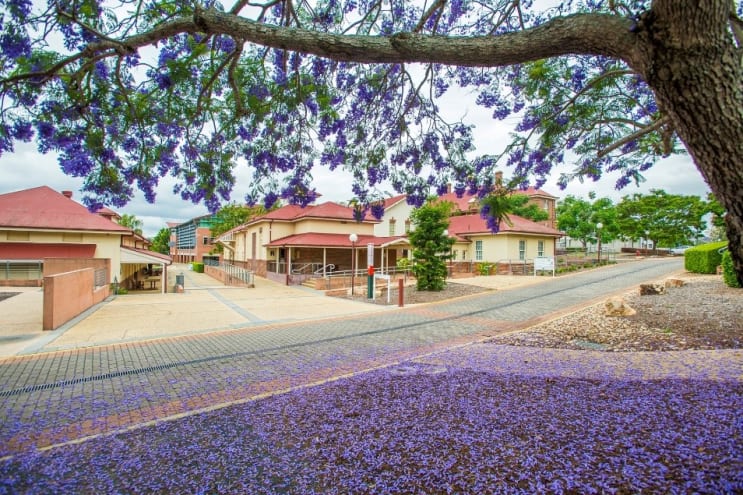 Online
Join over 70 per cent of USQ students who choose to achieve their career goals through online study. With over 100 courses available, students have flexible online classrooms to choose where, when and how they study.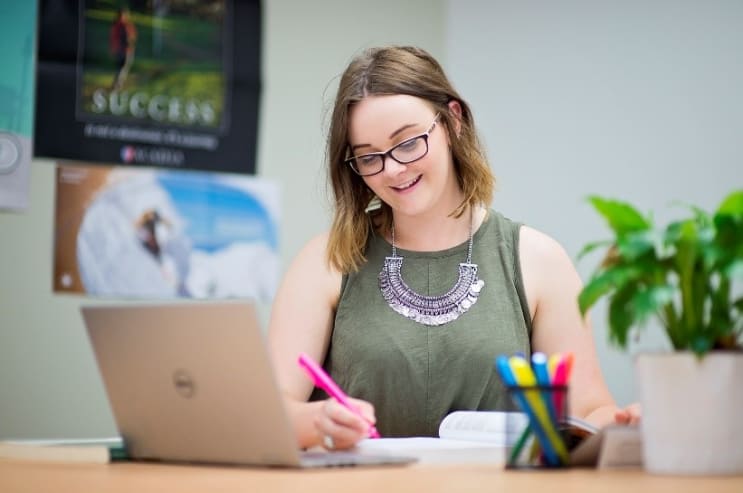 Scholarships
USQ offers a range of bursaries and scholarships catering to students from all backgrounds. These are regularly updated.
International student support
USQ ensures students get the most from their learning experience by offering flexible study options in a supportive environment. Whether students study on-campus or online, they have access to dedicated Student Relationship Officers to provide support during every stage, from enrolment, right through to graduation.
As an international student arriving to study with USQ in Australia, students are offered the following:
Free airport collection and transfer to accommodation (for newly arriving students)
Free daily intercampus shuttle bus service
Residential colleges and advice about off-campus accommodation
International student career advice
Student welfare, health, counselling and wellbeing
Multi-faith support and services
Regular student events and activities
Disability resources
Career development
Library resources, including study support.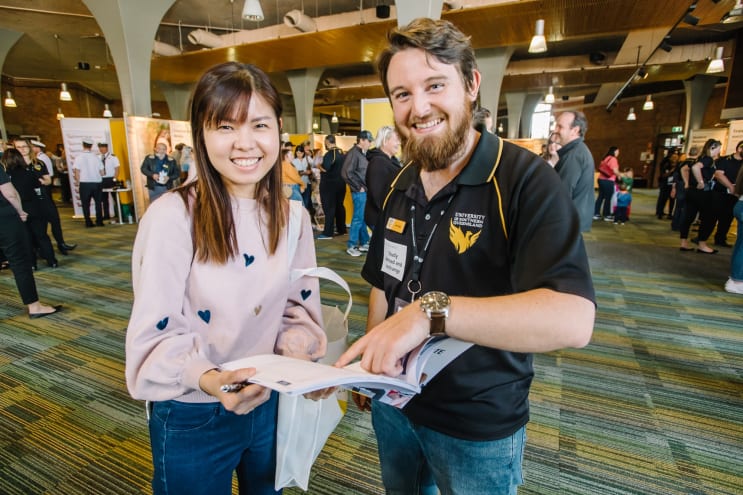 Where to stay?
USQ facilitates the accommodation in its three campus locations. In Toowoomba and Springfield, on-campus accommodation is available to provide a friendly, residential community environment for students. In close proximity to the Ipswich campus, independently owned and operated off-campus accommodation is available.
Research
USQ is committed to conducting research that is academically relevant and contributes innovations to benefit our communities, nation and the world.
USQ's research culture is to make a difference and its researchers engage, collaborate and understand stakeholders and industry to deliver world-changing solutions.
USQ facilitates a wide variety of research programmes across multiple disciplines within its research institutes, centres, faculties and schools. Its three institutes and nine centres represent its vibrant and supportive research environment, contributing to success in its key areas of research excellence as measured by the Australian Government's Excellence in Research Australia (ERA) ratings.
USQ strives to produce pioneering research with global reach and impact. It has various research strengths evident across a range of key research areas.
The world-class quality of its research efforts has been confirmed by results from the 2018–2019 Australian Research Council's Excellence in Research for Australia (ERA) report[4].
The following research areas were rated: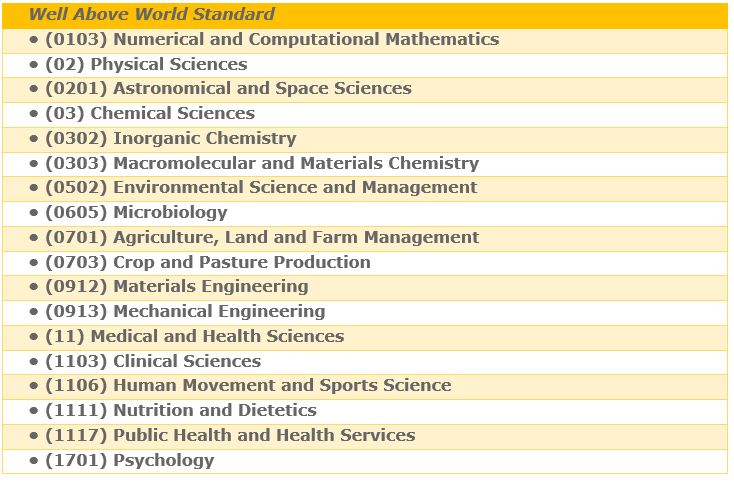 [1] Good Universities Guide, 2020
[2] Quacquarelli Symonds, QS Stars 2019
[3] Australian Research Council's 2018 Excellence in Research for Australia (ERA) rankings.
[4] Australian Research Council's 2018 Excellence in Research for Australia (ERA) rankings.
Locations
Toowoomba
University of Southern Queensland
Address
USQ Toowoomba
West St

4350
Toowoomba
,
Queensland
,
Australia
Springfield
Address
USQ Springfield
Sinnathamby Boulevard


4300
Springfield
,
Queensland
,
Australia
Brisbane
Address
USQ Ipswich
11 Salisbury Road
4305
Brisbane
,
Queensland
,
Australia
Australia Online
Address
Australia Online
,
Australia