Universities are powerful institutions; they play a key role in our driving economic and social development through both the provision of education and through the process of research, innovation and knowledge transfer. At the University of Nottingham, we are committed to the provision of excellent educational experience in a campus environment led by academic staff who are themselves leading research that will address some of the major challenges confronting our global society.
image courtesy of University of Nottingham Malaysia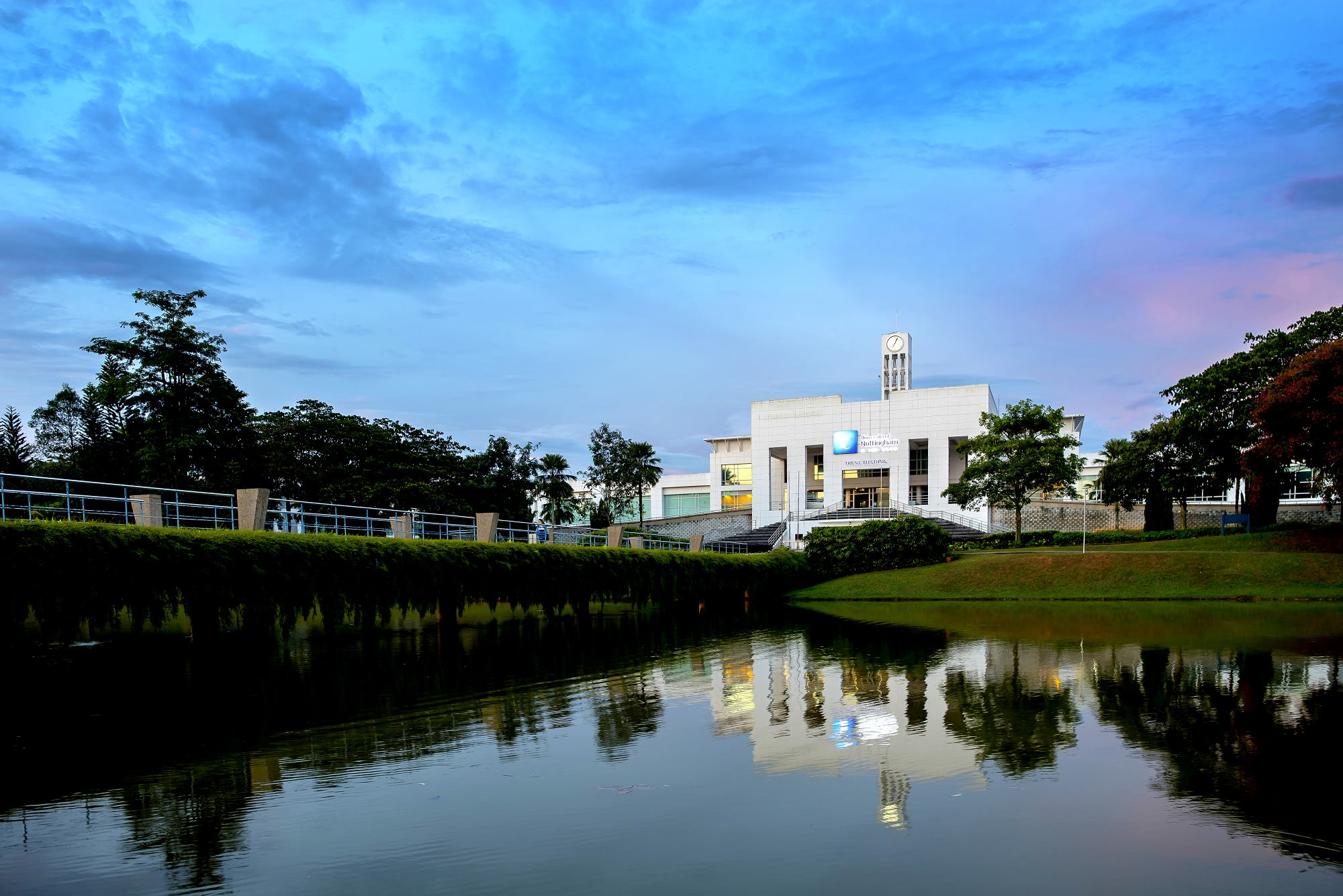 Consistently ranked in the top 100 Universities worldwide, we offer a range of study opportunities for students from foundation level courses through to doctoral degrees. A broad range of undergraduate and postgraduate programmes are available from different specialist schools and departments across the Faculties of Arts and Social Sciences, Engineering and Science. We host a community of around 5000 students from over 85 different countries worldwide who work with and receive a world-class higher education experience from leading academics in their field. The campus provides excellent teaching, learning and research facilities including a well-equipped library, dedicated study areas and computer, language, and science and engineering laboratories.
All of our students have access to a great range of leisure and well-being facilities including a purpose-built sports complex and a superb swimming pool. There are also numerous student societies and clubs and a very active Student Association.
Alongside our study programmes, our academic staff are undertaking a range of research activity in partnership with both public and private sectors in Malaysia and worldwide. We work in areas of direct relevance to Malaysia and the region and build on the distinctive strengths and expertise of the University of Nottingham. Our research priorities include renewable energy, drug discovery, nanotechnology, sustainable crops, post-harvest technologies, communications and cultures, and business productivity and innovation.
Whether you are an existing or potential student, parent, teacher or local employer, please do not hesitate to get in touch. My colleagues and I are very proud of the University of Nottingham Malaysia and we would be delighted to talk to you or show around.
Professor Graham Kendall, Provost and CEO
University values
University mission
At the University of Nottingham, we are committed to providing truly international education, inspiring our students, producing world-leading research and benefitting the communities around our campuses in the UK, China and Malaysia. Our purpose is to improve life for individuals and societies worldwide. By bold innovation and excellence in all that we do, we make both knowledge and discoveries matter.
Vision
Our vision is to be widely recognised as the first choice of:
students who want a top-quality, international education.
researchers who want the best opportunity to make a significant global impact.
businesses that want innovative partners who give them an edge on their competition.
By attracting ambitious and talented students, staff, and business partners, we will firmly establish ourselves among the top 10 UK universities by 2015, and both of our campuses in Asia will be recognised as leading higher education providers within their regions.
Our vision is to be recognised around the world for our signature contributions, especially in global food security, energy and sustainability, and health.
History
1881: Nottingham's first civic college
Nottingham's first civic college was opened in the city centre in 1881, four years after the foundation stone was laid by former Prime Minister, W E Gladstone. An anonymous benefactor had offered £10,000 for a college on condition that a suitable building is erected by the Council and that the college should be provided with £4,000 a year.
1928: University Park
After the First World War, the college outgrew its original building. A generous gift by Sir Jesse Boot, of 35 acres of land at Highfields, presented the solution and in 1928 the College moved to what is now the main campus, University Park. Initially, it was accommodated in the elegant Trent Building and was officially opened by King George V in November of that year.
Famous visitors
Even in its early days on this site, the College attracted high profile visiting lecturers including Professor Albert Einstein, Mahatma Gandhi and HG Wells.
1948: Becoming The University of Nottingham
In 1948, the college was awarded the Royal Charter and became The University of Nottingham, now able to award degrees in its own name. During this period the School of Agriculture was established when the Midland College of Agriculture at Sutton Bonington merged with the University.
Continued growth
The University of Nottingham continued to grow and still focuses on its development and has a number of campuses in the UK and overseas.
A Global University
The University of Nottingham prides itself on its unique International Curriculum which we believe truly enhances the student experience.
The Malaysia campus plays a special role within Nottingham's global vision. We have an increasing number of students participating in our inter-campus exchange programmes and offer an exciting range of Summer School programmes all of which have an international element; be it through language learning or courses with a special focus on Asian travel, business or culture.
The Malaysia campus also plays a leading role in the development, strategy and implementation of the International curriculum as the International working group is lead by Vice-Provost for Teaching and Learning, Professor Ong Fon Sim.
image courtesy of University of Nottingham Malaysia
Campus information
The University of Nottingham Malaysia Campus is situated in Semenyih on a 101-acre site 30km from Kuala Lumpur.
The University also has a site in Kuala Lumpur city centre, the Kuala Lumpur Teaching Centre (KLTC), where some postgraduate programmes are delivered.
Accolades
Universitas 21
Universitas 21 (U21) is the leading global network of research-intensive universities, working together to foster global citizenship and institutional innovation through research-inspired teaching and learning, student mobility, connecting our students and staff, and wider advocacy for internationalisation.
Asia-Pacific University-Community Engagement Network
We are committed to fostering the broader social good, at the local and national level in the countries we operate in, as well as globally. UNM has been a member of Asia-Pacific University-Community Engagement Network (APUCEN) since 2015.