Quality Certified and Fully Accredited MBA and BBA programs for working professionals
Swiss School of Management
Swiss School of Management (SSM) is one of the Top 5 Global Management Schools providing the most economical MBA/ BBA courses, with chosen Specializations that fit immaculately with employed professionals' work-life balance to befit them and help grow and learn regardless of their bustling schedules.
SSM offers innovative, quality certified programs that provide not only a truly practical management education but also combine the latest in technology with the most forward-
Thinking business, educational & Leadership ideas. By deciding to study at SSM you will be making an exceptional investment in your future as we strive for even more exciting learning opportunities for our students.
The Swiss School of Management represents a pioneering Swiss initiative in the U.A.E and Gulf region. SSM Dubai organizes both Post Graduate and Under Graduate programs with flexible study options and payment plans. We welcome a diverse student body catering to the continuing education needs of working professionals in the U.A.E and G.C.C countries.
Why Join SSM?
Our flexible learning modules are a combination of online and onsite learning, allowing students and working professionals to adapt to our flexible schedules thereby allowing them to focus and excel in their present jobs simultaneously balancing both work & education, Combined with leading faculty members, industry experts, and exhaustive learning materials
SSM has a diverse student body coming from all over the world – allured by our accredited learning Centre's in countries around the world including Rome, Dubai, Turin, Cairo, Yangon, Belgrade, and Penang.) and more learning centers are about to join the SSM network in the next few months and years.
SSM provides an astonishing opportunity for MBA student to take their Leadership classes in Rome, Italy. This study tour will provide an inimitable and valuable chance to experience the business world and culture of Italy. It is implemented exclusively for aspiring and determined professionals in need of a challenging and stimulating initiative
Program Benefits:
Globally Accredited Business Programs
Career Specific Specializations
Internationally Attested Qualifications
Free International Study Tour to Italy
Flexible Work-Life- Study Programs
Monthly Fees Payment Options
Accreditations:
All the programs offered by the SSM in Dubai are accredited by the CHEA -Council for Higher Education Accreditation through the IACBE and certified by EduQua, the Swiss Quality Certification label (accredited by the Swiss Federal Government) for Institutions of higher and continuous education. Several of the graduate and postgraduate programs have been officially recognized by international professional organizations.
Collaborations: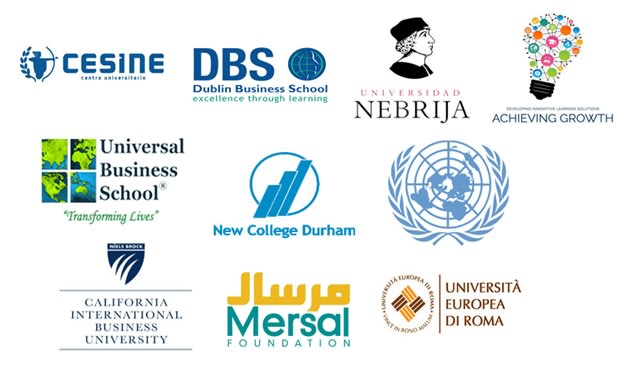 Courses:
Bachelor of Business Administration (BBA) – General
Master of Business Administration (MBA)
At the Swiss School of Management, you will learn among a truly international student body as our students come from all over the world. We are proud of this diversity because it adds to your learning experience. Employers especially value a student who is adapt to a diverse workplace. With our MBA program, students will study leadership, business, entrepreneurship, and management philosophies that can be applied to any management role across varied industries. Our business school also gives students hands-on applicable experience leading groups and classroom discussions.
The program features international lectures, corporate visits, visiting speakers, self- assessments exercises, and resume/internship counseling. Our goal is to start growing students' networks from the moment they arrive.
Specializations:
MBA in Human Resource Management
This course builds upon the learning outcomes of Project Management. This enhanced performance can be used with modification for more traditional projects. With this text's discussion of human strengths, students learn how to use positive psychology to understand the unique abilities of individuals. This course is designed to explore the most important methods and tools and how to successfully apply risk management in projects in a practical and easy-to-use way.
This course offers an introduction to understanding and managing investment portfolios. The course will also expose the student to the difference between public investing and Private Equity, primary valuation methodologies currently used on Wall Street: comparable company's analysis, precedent transaction analysis, discounted cash flow analysis and leverages buyout analysis.
MBA in Health Safety and Environment
This course provides an introduction to the management systems and quality-assurance methods used to enhance operational and compliance effectiveness in Health, safety, and Environmental Departments and Programs. The translation of corporate Health, Safety, and Environmental projects to management in a business format through understanding cost, budget, and return-on-investment considerations.
This course imparts and explores the role of marketing research in the overall marketing effort, the research process, and the most common approaches/techniques used. Students explore the information needs of marketers, develop the research process and discuss sampling techniques and data collection methods of primary data; discuss and evaluate various forms of new media and determine their uses, benefits, and drawbacks, understand the importance of clear and "perfect" knowledge about your idea or product and identity. New media marketing discusses and analyses how digital media technology is changed the way people and organizations communicate. Consumer attitudes, product knowledge, brand image, and many other relevant topics will be faced in order to develop a superior knowledge of the world of international luxury.
This course helps develop a global mindset that successful leaders possess in today's globalized world. Focusing on cultural issues and using international examples. International management behavior, helps managers develop skills and knowledge to lead successfully in a global business environment.
Students are also taught contemporary applications such as services (public and private), innovation for sustainability and development, social entrepreneurship; and financial aspects of entrepreneurship. This includes drafting of the business plan and its essential sections- financial, operational, and markets.
Student Life
Studying at the Swiss School of Management is challenging; nevertheless, the rewards are tremendous and remarkable. In addition to acquiring new knowledge and new ideas, our student network is global.
Many of your classmates will become part of the growing SSM alumni. SSM is certain that you will find your experience at SSM inspiring and enjoyable.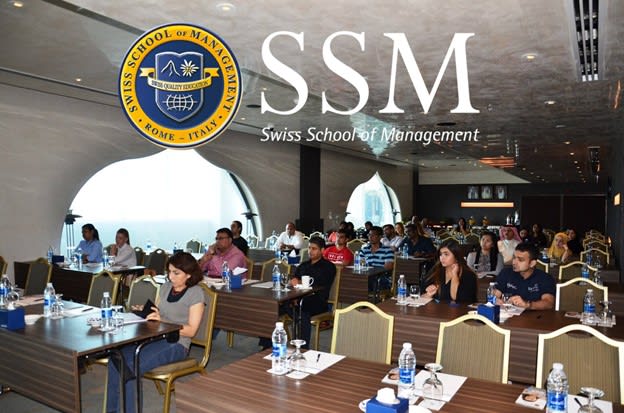 Once you are on board, we wish you the best of success in your studies and future careers with all our support. We look forward to personally welcome you to the Swiss School of Management at the Dubai campus
Our goal at SSM is to nurture leaders who can inspire others, demonstrate outstanding skills, and work in multi-cultural environments. At the Swiss School of Management, you will learn among a truly international student body as our students come from all over the world. We are proud of this diversity because it adds to your learning experience. Employers especially value a student who is adapt to a diverse workplace. Our second goal is to prepare you for the future. In today's competitive world nobody however skilled or talented becomes a success by themselves.
About Swiss School of Management
The Swiss School of Management (SSM) Dubai is an accredited center of the Swiss School Management in Switzerland, SSM in Dubai is represented by Learners Education FZ LLC with its registered office Creative Media Free Zone in Fujairah and its marketing office in ABT 5 Building, Al Tawun, Sharjah located near the border with Dubai.
Originally founded in the year 1981, under the laws of the Canton of St. Gallen, Switzerland with the name of Newport Graduate School. It was well- known as one of the first institutes offering American higher education in Switzerland.
Today, the Swiss School of Management has a campus located in Rome (Italy), and accredited learning centers are in Dubai, Turin, Cairo, Yangon, Belgrade, and Penang. Over the years, the school managed to tie-up with numerous universities offering dual degree or top-up degree opportunities in five continents to its student body. The School in the present day is an international organization, its global outreach is continuously expanding and every year new learning centers add to the international network.
Our motto is: "We create Leaders". We do determinedly believe, that in a more and further globalized world, people need serious leadership and entrepreneurial skills. Only with those skills and expertise, we can differentiate each other from the imminent Artificial Intelligence revolution. We believe that only through serious and consistent leadership and entrepreneurial skills, we can secure employment and global wealth for forthcoming generations.