Fostering Excellence in Brazilian Education
Educational excellence, innovation-driven entrepreneurship, and multi and intercultural learning form PUCPR's primary purposes. As a result, the Pontifícia Universidade Católica do Paraná has earned national and international recognition through the most important higher education ranking in the world: The Times Higher Education, which has placed PUCPR among the top universities in Brazil. With almost 60 years of dedication to higher education and research, PUCPR is the largest private higher education university in the state of Paraná, and one of the most reputable universities in Brazil.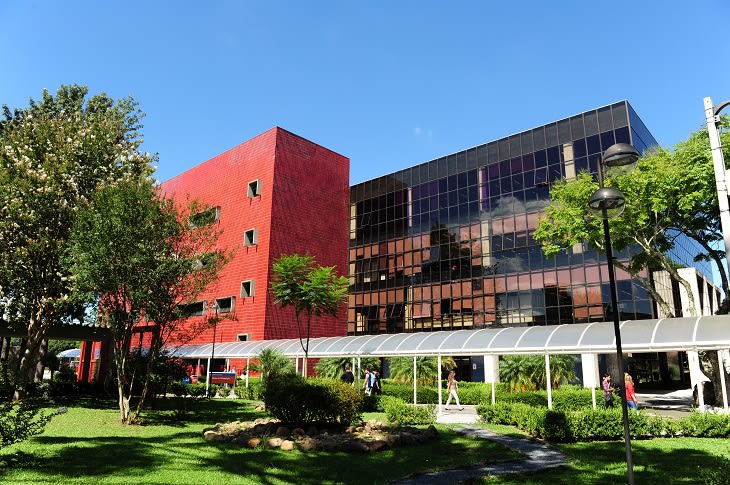 Overview
23,000 Undergraduate students
60+ Undergraduate courses
6,000 Continuing education students
28 Graduate programs

1,200 Graduate students

1,650 Faculty members

280 Teaching and research laboratories
PUCPR provides education to skilled professionals to act as transforming leaders in society. Through the promotion of ethical values and commitment to the local and regional community, PUCPR has established its identity, contributing substantially to building a better society.
Over time, PUCPR has graduated over 100,000 students. The University has taken a path towards globalization by integrating several cultures and sharing knowledge internationally. PUCPR is becoming a key promoter of innovation and is strengthening a network that stimulates knowledge sharing and applied research.
Mission
The Pontifícia Universidade Católica do Paraná, guided by ethical, Christian and Marist principles, has as Mission the development and dissemination of knowledge and culture and the promotion of comprehensive and permanent qualification of citizens and professionals committed to the life and to the progress of the society.
Vision
To become, until 2022, a world-class higher education institution, with excellence in teaching, knowledge production, services, and social relevance.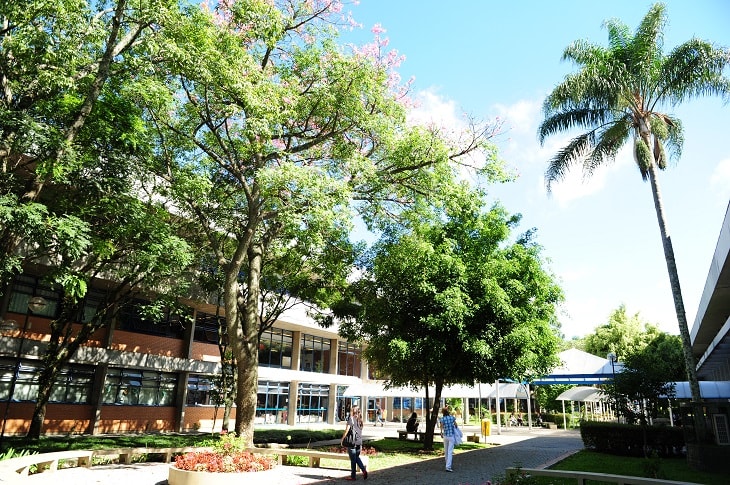 Where We Are
PUCPR has four campuses in the state of Paraná, Brazil, being the main campus located in Curitiba, the state capital. The beautiful and vibrant main campus is shared daily by a community of around 40,000 people, including students, faculty, researchers, and staff and is a well recognized center for education and research.
With more than 1.7 million people, Curitiba is the largest city in southern Brazil. The capital has one of the best per capita green space rates in Brazil. Approximately 30 parks and forests beautify the city and serve as places to enjoy leisure and sports. The city also created pioneer recycling and sustainable waste management efforts in Brazil. Plus: the city's public transportation is a world reference as its high-speed bus, which circulates in exclusive lanes, has served as inspiration for cities like Bogotá (Colombia), Mexico City (Mexico), and Los Angeles (United States).
The additional campuses locations are Maringá, Londrina, and Toledo. Maringá is the third largest city in the state of Paraná and one of the 50 best cities to live in Brazil, according to the 2016 United Nations raking. Londrina is the fourth most populous city in southern Brazil, with nearly 600,000 inhabitants. Londrina is a hub for regional and national development and the campus focuses on activities related to the agribusiness. The town of Toledo, located in western Paraná, is a leading grain producer in the state. Its population sums up to 130,000 inhabitants.
Global PUCPR
Internationalization opens the university's doors to the world. PUCPR believes it is necessary to go beyond borders to ensure that global knowledge, research, and human development are accessible to all.
Partnership with 240+ higher education institutions around the world.
50+ courses taught in English in different undergraduate programs.
500+ undergraduate students enrolled in exchange programs every year (incoming and outgoing).
Presence of international faculty and researchers from all over the world at PUCPR.
Double degree agreements with universities worldwide in the areas of economics, business management, architecture and urban planning, product design, literature, journalism, advertising, marketing, and mechatronics.
Global Partners
PUCPR has academic cooperation agreements with over 240 partner universities from more than 25 countries in all continents, which provides students and faculty members from a variety of institutions to have Brazilian academic experience.
Learn more about PUCPR' international projects:
English Semester
PUCPR is one of the first higher education institutions in Brazil to offer academic courses conducted entirely in English to both international and local university community.
Buddy Program
An initiative developed by PUCPR students, the program aims to assist international students in their cultural and social adjustments at PUCPR during their exchange program.
American Academy
The pioneering program in which the students start their undergraduate studies in Brazil and do the last two or three years in the United States, with the possibility of a double degree. A partnership between PUCPR and Kent State University (Ohio-USA) that brings to Brazil the most innovative program in Latin America.
PIBIC International
Research opportunities for undergraduate and graduate students. The Undergraduate Research Program is designed to introduce students to the scientific research environment, while the PIBIC Master is focused on talented senior students interested in pursuing a master's degree at PUCPR.
Strategic Plan for Internationalization
Internationalizing higher education is no longer an option, but rather a necessity for every university committed to the quality of teaching, research, and extension. The great modern challenges of society, while having a local impact, are of global scale - energy, sustainability, cities, health, human rights, among others - and therefore, their solutions depend on the formation of leaders with global vision and presence.
PUCPR decided to take on this task when it chose internationalization as an institutional priority. In this scenario, the Rectory, through the Pro-Rectory for Research, Graduate Programs and Innovation, and the Internationalization Office has created a proposal for the internationalization of the University for the period from 2016 to 2022. The plan is organized into two axes, called InPUC - internationalization on campus – and OutPUC – the external internationalization activities – each with three guidelines and complemented by a plan of activities, some already in progress and others planned for the future.
The proposal aims to include the entire academic community in an effort to make PUCPR a truly borderless University.