Located in Astana City, Kazakhstan, in Central Asia, Nazarbayev University is a research university with growing international renown combining education and innovation on a state-of-the-art 21st-century campus. Nazarbayev University has quickly become known worldwide for its commitment to becoming a top-notch research facility. NU scholars conduct research in a variety of fields and bring the most ambitious projects to life. Research is supported by internal and external funds each year and carried out in modern laboratories.
English is the language of instruction and research at Nazarbayev University, and admission and progression systems are entirely merit-based.
To date, NU has published well over 2,500 pieces in a variety of study areas, including technology and science. Of these studies, nearly 12.6% are currently ranking in the top 10% of most-cited publications worldwide thanks to collaborations with students and faculty across 1100 international institutions and 268 research and teaching laboratories.
To learn more about Nazarbayev University's commitment to its research and become a part of the team, make sure to check out the NU admissions process and review the different merit-based funding opportunities available to prospective students.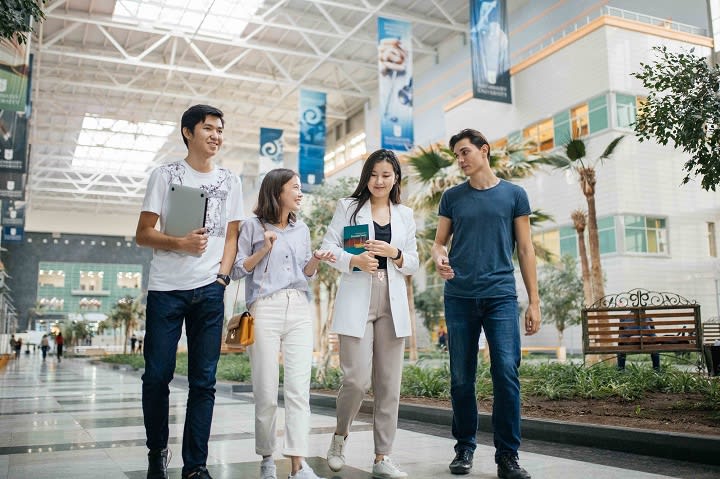 Campus
NU is a modern research university campus that caters to a comfortable lifestyle among residents. Living areas are available for everything from solo to group living arrangements. A variety of eateries are provided around the campus for culinary exploration, while safety and security are guaranteed through access control cards that limit access at all campus facilities.
Our state-of-the-art sports complex facilitates an active lifestyle, no matter which sports and activities you enjoy. World-class, regulated outdoor sports fields provide the perfect place for team-based, intramural competitions.
There's something for everyone's discovery on the NU campus.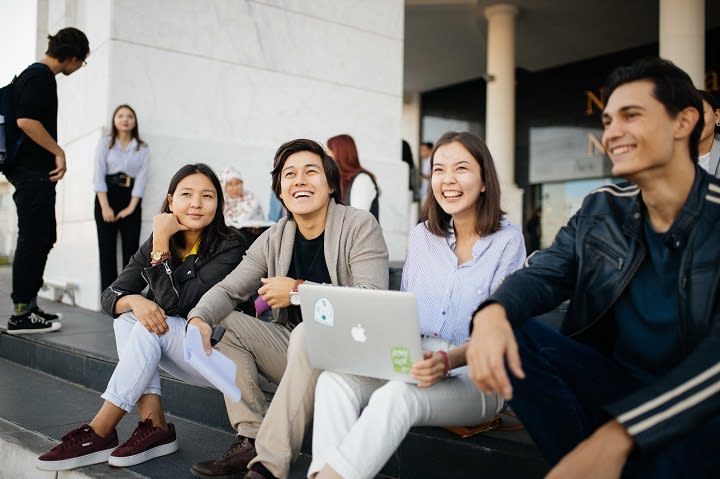 Life at NU
Students, staff, and faculty choosing to live at NU discover Kazakhstan and enjoy all the amenities of home. Comfortable accommodations are paired with first-class services for food, shopping, grooming, and other personal needs. Many services (including our medical office) are open 24/7 to serve at any time of the day or night.
Both students and faculty love living at NU.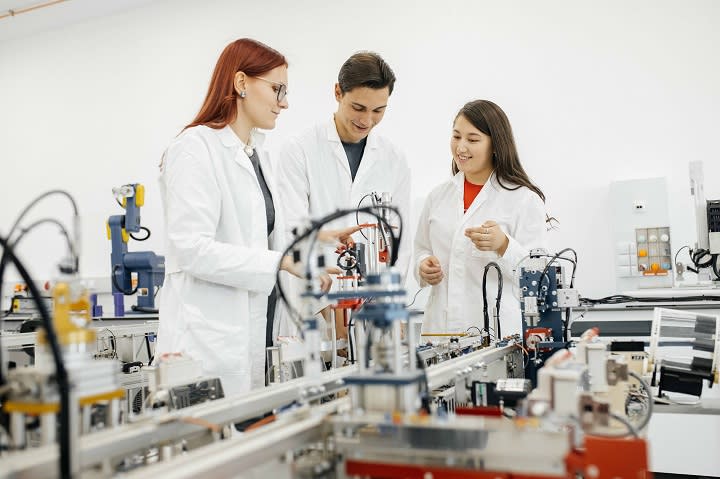 International Cooperation
The model for the strategic development of Nazarbayev University is based primarily upon a partnership with the top-ranking universities in the world. Each of the University's schools and research centers has been developed in cooperation with the leading universities and research institutions.
NU is aimed at the promotion of university-wide internationalization via international cooperation, partnerships, positioning the University in the global higher education arena, and international student, faculty, and staff support.
Strategic Academic and Research partners of Nazarbayev University
The University of Wisconsin-Madison (USA) – partner for the School of Sciences and Humanities
Duke University, Fuqua School of Business (USA) – partner for the Graduate School of Business
The National University of Singapore, Lee Kuan Yew School of Public Policy (Singapore) – partner for the Graduate School of Public Policy
The University of Pittsburgh (USA) – partner for the School of Medicine
The University of Pennsylvania (USA) – partner for the Graduate School of Education
The University of Cambridge (UK) – partner for the Graduate School of Education
Colorado School of Mines (USA) – partner for the School of Mining and Geosciences
The University of Pittsburgh Medical Center (USA) – partner for the National Research Oncology Center
The Lawrence Berkeley National Laboratory (USA) – partner for the Private Institution "National Laboratory Astana"
The Oak Ridge Associated Universities (USA) – partner for the Private Institution "Nazarbayev University Risk Taking and Inspiration Synergy"
Strategic Partners which have contributed to the development of NU:
The University of Warwick (UK) – partner for the Nazarbayev University Foundation Year Program between 2015 and 2016.
University College London (UK) – partner for the Nazarbayev University School of Engineering and Digital Sciences and University Preparatory Certificate Program between 2010 and 2015.