Become the Musician the World Needs You to Be.
The world needs music now more than ever. Longy prepares you to become an exceptional musician who can engage new audiences, teach anyone, anywhere, and use artistry to change lives in communities around the world.
Longy School of Music of Bard College is a degree-granting conservatory in Cambridge, Massachusetts with an additional campus in Los Angeles, California. We offer a full spectrum of performance, composition, and teaching programs. At Longy, you will discover many paths to make a meaningful life in music.
Longy School of Music of Bard College prepares musicians to make a difference in the world. Its faculty encourages the growth of imagination and fosters an attitude of inquiry about the role of music and the musician in the larger world.
The Longy Difference
Social Imperative
Longy is a conservatory whose mission is to prepare musicians to make a difference in the world. This social imperative is at the core of the school's curriculum, encouraging students to become the musicians the world needs them to be.
The school is committed to preparing its students to meet a changing musical landscape head-on, giving them the skills to perform, the ambition to teach, and the desire to expand access and opportunity within classical music. Every student is encouraged to live by Longy's bold mission and actively serve the community around them. By weaving artistry and service together as an integral part of the curriculum, Longy is shaping a new future for classical music.
Catalyst Curriculum
We're training musicians to be catalysts—artists who know how to create change and make things happen. That's why we've turned our graduate education on its head with a different kind of curriculum, customized for you. It pairs musical excellence with a focus on the skills you'll need to be a musician: the ability to design experiences, produce projects, and engage audiences with exceptional music encounters. With faculty as your facilitators, you'll take the lead in your own education: exploring, experimenting, and following your passion. You'll learn how to create your own opportunities for work and, ultimately, you'll discover who you want to become as a musician.
Culture of Collaboration
Longy is a place where "collaborative" and "ensemble" describe both our performances and the way we live and learn together. You'll be part of a community of musicians who root for each other. You'll join forces with fellow students to perform your compositions, while you perform their works. And as you engage audiences and grow as a musician, your mentors and classmates will share your every success.
Real-World Experience
From your first days at Longy, you become a Boston musician, performing professionally with faculty on concert stages around the city. You will have networking opportunities with an extensive community of musicians and music organizations.
Develop the skills you need to be a successful musician in an ever-evolving landscape. Explore the many paths a musical life can take. Get hands‐on, real‐world experience that prepares you for the do‐it‐yourself career that artists must navigate.
Vibrant City Location
Located in vibrant Harvard Square and less than three miles from downtown Boston, Longy's campus provides students with access to a wealth of musical and cultural riches throughout New England. From the Boston Symphony Orchestra to the Museum of Fine Arts to the famous Kendall Square, Cambridge's center of world-shaking innovation, Boston / Cambridge isn't merely a backdrop—it's your campus and an integral part of the Longy experience.
Forbes named Boston the second most creative U.S. city.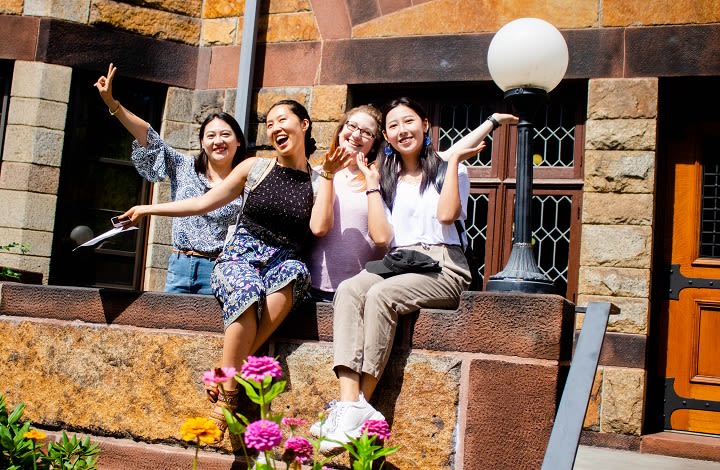 The Vision for Longy
How do you prepare musicians to make a difference in the world?
Ask them to be great. Provide them with the most rigorous education. Hold students of all ages to the highest standards of uncompromising excellence. Inspire them to be artists who can move hearts, enlighten minds, cross boundaries, and bridge divides. Show them how exceptional musicians must also be exceptional human beings.
Then ask them to be leaders. Motivate them to walk not just the well-trod paths but to blaze new ones, forging opportunities for themselves and others as they go. Provoke them, as they're learning and refining musical skills, to consider where those skills can take them.
Nurture collaboration, since great leaders must also be great listeners. Focus on chamber music where, in the absence of a conductor, students must assume the responsibility for finding their own voices.
Instill an entrepreneurial spirit and build critical thinking skills in students to match their musical abilities. Teach them how to start a slow movement one day, to launch a concert series the next and to perform in concert halls, clubs, and anywhere they can find a hungry audience.
Inspire students at every level to dream of how their music can transform their lives and the lives of others. Help them to articulate their dreams and then put them into practice. Create partnerships with businesses, schools, and neighbors where students can test their ideas in the real world.
Create an environment for incubation—a place where great musicians and great ideas can be cultivated. Make it a diverse place where difference can broaden minds and enlarge perspectives. Keep it intimate, so individual attention is guaranteed. Prize collaboration and creativity as highly as musical prowess. Encourage every student to ask their peers — "How can I help you achieve your dreams?"
This is how Longy School of Music of Bard College will prepare musicians to make a difference in the world: by providing an education that teaches students to be extraordinary musicians and human beings while challenging them to find new ways to change the world through music.
This is our dream. This is our vision.