Welcome to London Brunel International College
We are dedicated to helping you attain a prestigious degree at London Brunel International College in a campus-based university offering a safe, friendly and positive environment.
Explore the wide range of employability aspects while improving your career prospects at London Brunel International College and take the next step to design your future.
Your pathway to a degree from Brunel University London
London Brunel International College (LBIC) is your pathway to a degree at Brunel University London. LBIC is part of the global Navitas Group, an internationally recognised education provider with the knowledge and resources of staff in more than 120 colleges and campuses worldwide.
LBIC is proud of its many graduates who have completed Brunel degrees and embarked on successful careers in some of the world's top companies. We now look forward to providing you with a high-quality education that will help you achieve your own career objectives and personal goals.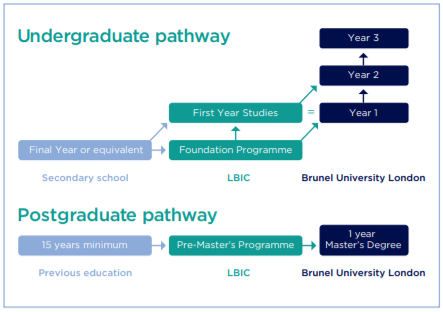 Why study pathways at LBIC
% of honours degrees awarded to LBIC graduates compared to non-LBIC graduates
| | | | |
| --- | --- | --- | --- |
| Department | LBIC graduates have achieved: | Brunel graduates (International students) have achieved: | Brunel graduates (Home students) have achieved: |
| Business | 84.62% | 68.33% | 82.81% |
| Computer Science | 79.71% | 60.00% | 61.43% |
| Economics and Finance | 96.15% | 79.17% | 89.38% |
| Overall | 85.49% | 70.79% | 80.39% |
LBIC is your pathway to Brunel University London
LBIC will provide you with the tools you need to be successful in your studies. Our high-quality service will allow you to develop your full potential and our dedicated academic and student support staff will be with you every step of the way.
Full access to Brunel facilities
LBIC students are Brunel students from day one. This means you will have full access to all of the facilities that this excellent university has to offer:
24/7 library
Professional Development Centre
Computer labs
Sports clubs and societies
On-campus restaurants and cafés
Nightclub
Arts centre
Career centre
From teaching and learning facilities including an extensive library; dedicated careers services and top of the range computer labs; to sports clubs and societies; through to a huge number of social amenities including on-campus restaurants, cafés and a nightclub, LBIC students have access to it all.
Supportive learning environment
As an LBIC student, you will enjoy smaller class sizes and one-to-one tutorial sessions. This will allow you to successfully bridge the gap between your previous studies and Brunel, providing you with the skills, knowledge and expertise that will enable you to excel at your university studies and ultimately graduate with an internationally recognised Bachelor's or Master's degree from Brunel University.
Study accredited modules
LBIC's courses and modules are designed in partnership with the University's academic staff, meaning that from day one you will be gaining knowledge and skills that will give you a distinct advantage when you have completed your studies at LBIC and progressed on to Brunel University London.
Multicultural environment
LBIC boasts students from countries around the globe, all learning and socialising together, and the experience and future connections that this provides should not be underestimated. LBIC actively ensures diversity among its students, meaning that you will always find someone with whom to reminisce about home, while also ensuring you are exposed to a truly international — and a truly British university experience.
Naassom Azevedo / Unsplash