King's College is about you.
You are, after all, the reason we're here. We strive to create a personal, welcoming environment that will give you the tools to succeed while you're here and long after you graduate. You'll find rigorous coursework, competitive sports and an array of activities as easily as you will supportive professors, impressive coaches and friends for life.
King's College is about values.
King's is a Catholic, comprehensive college in the liberal arts tradition founded in 1946 by the Congregation of Holy Cross from the University of Notre Dame. The minute you step foot on campus, you'll feel the warm, friendly vibe; you'll notice the immaculate surroundings and impressive facilities; you'll feel at home in the comfortable, urban setting. King's College is a home away from home—a place that overflows with values for a lifetime.
King's College is about opportunity.
Classes average 18 students, which fosters a dynamic, personal setting for you to interact with your professors and classmates, to succeed academically, socially and spiritually. King's College is your school, for life.
King's College ranks among the best.
U.S. News & World Report's list of Best Colleges and Barron's Best Buys in College Education consistently recognize the value of King's College. Don't take our word for it; see the national rankings for yourself.
Our accreditations speak volumes.
Our academic programs receive more than just respect; they receive national recognition, as well. The William G. McGowan School of Business is one of only 53 undergraduate schools of business nationwide to receive accreditation by The Association to Advance Collegiate Schools of Business (AACSB-International).
Proof positive, we expect as much success from our institution, as we do from our students.
We offer more than just a tradition of excellence.
We offer the strength of a community rooted in the Congregation of Holy Cross from the University of Notre Dame. When you step foot on campus, you experience the warmth of our caring, nurturing environment.
We're guided by principles of faith and trust.
King's was founded in 1946 to educate the sons of miners and mill workers. While much has changed over the years, our commitment to provide a solid foundation in the liberal arts, along with the professional tools to enjoy a successful career in a number of fields continues to this day.
Students of all faiths and backgrounds benefit from a curriculum that's as focused on the mind as it is the soul.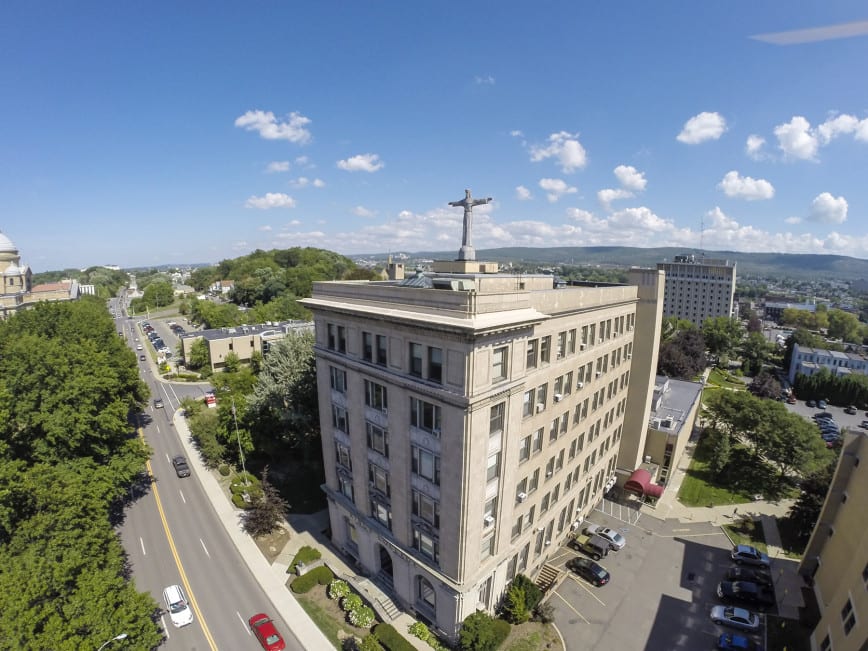 Mission
King's College is a Catholic institution of higher education animated and guided by the Congregation of Holy Cross. King's pursues excellence in teaching, learning, and scholarship through a rigorous core curriculum, major programs across the liberal arts and sciences, nationally-accredited professional programs at the undergraduate and graduate levels, and personal attention to student formation in a nurturing community.
Vision
Since its founding in 1946, King's has been dedicated to the Holy Cross ideal of transforming minds and hearts with zeal in communities of hope. The College's commitment to students is expressed both in the curriculum and in co-curricular programs encouraging service, fostering reflection, and cultivating leadership skills. Inspired by the teaching and example of its namesake, Christ the King, who taught by example and ruled by love, King's forms graduates who will champion the inherent dignity of every person and will mobilize their talents and professional skills to serve the common good. In the words of its founding president, "King's teaches its students not only how to make a living, but how to live."