The WVU Reed College of Media is a student-centered journalism school that has been graduating journalists and strategic communicators since 1939.
While rooted in tradition, the WVU Reed College of Media also offers an innovative curriculum and real-world experiences that prepare students for careers in today's media industry. A pioneer in online graduate education, the Integrated Marketing Communications (IMC) program is the nation's first completely online master's degree program, and its Data Marketing Communications (DMC) program is the nation's first master's degree focused specifically on the impact data has on marketing communications.
About Dr. Perley Isaac Reed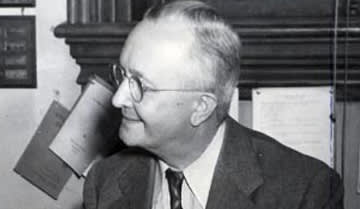 Dr. Perley Isaac Reed founded the College of Media at West Virginia University in 1939. A former English and journalism professor, Reed helped to expand journalism course offerings at WVU and was named the first director of the College of Media when it became an independent school.
Reed played a key role in the founding of many of the College of Media's student organizations. He also helped establish two national groups – Kappa Tau Alpha, a college honor society that recognizes academic excellence and promotes scholarship in journalism and mass communication, and the American Society of Journalism School Administrators, which was later affiliated with the Association for Education in Journalism.
Reed believed in keeping journalism students aware of and in close contact with practitioners in the field, and he often invited members of the working press to deliver special lectures to the student body. This concept continues through special events like the College's annual "Journalism Week," and the Ogden Newspapers Seminar Series, as well as the many alumni who return to their alma mater as visiting lecturers and professionals in residence.
Above all, Reed symbolized professionalism in journalism and mass communications. He believed in discipline and hard work – for himself as well as for his faculty and his students – and lived by the dictum, "Accuracy! Accuracy! Accuracy!"
Reed's legacies include not only a firmly established College of Media at WVU but also a harder-to-define spirit of professionalism instilled in students now working as journalists and professional communicators around the world.
A Brief History of Martin Hall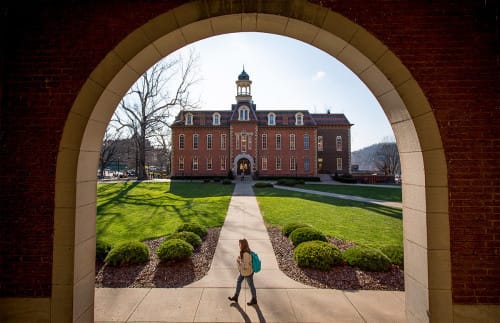 Located in the heart of WVU's Downtown Campus, Martin Hall is the oldest building on the University campus. Completed in 1870, it was originally named University Hall. It was the first building constructed by the new West Virginia University, which was established by the combination of Woodburn Female Seminary and Monongalia Academy in 1867.
The uniqueness of Martin Hall saved it from destruction – the fate of many early University buildings torn down to make room for new construction. Considered an irreplaceable example of 19th century architecture, Martin Hall and the other Woodburn Circle buildings (Woodburn Hall and Chitwood Hall) have been entered on the National Register of Historic Places. George A. Smyth, former University architect, said Martin Hall "was built in the eclectic period of the Classic Revival and can be identified as being in the French manner of the Second Empire."
The building was renamed Martin Hall in 1889, in honor of the University's first president, the Rev. Alexander Martin. A Methodist minister born in Scotland, Martin was WVU's president from its founding until 1875.
For nearly 50 years, Martin Hall was the center for all classes for prep students and served as headquarters for the Columbian and Parthenon Literary societies. From 1918 through 1952, it housed the physics department.
In 1952, Dr. Perley Isaac Reed, dean of the College of Media, petitioned to move the College from its cramped quarters on the top floor of Woodburn Hall to Martin Hall. After a renovation, the College of Media moved into its new quarters in 1953.
Under the direction of Dean Guy Stewart, the building underwent major renovations in 1976-1977. Martin Hall was gutted, and a new interior was constructed to improve classroom and office space and provide upgraded facilities.
Since 2005, Martin Hall has undergone another series of renovations designed to improve the building's aging infrastructure and provide a more modern instructional environment for College of Media students. Martin Hall's recent renovations are an extension of Dean Stewart's vision, bringing the College of Media into the 21st century.