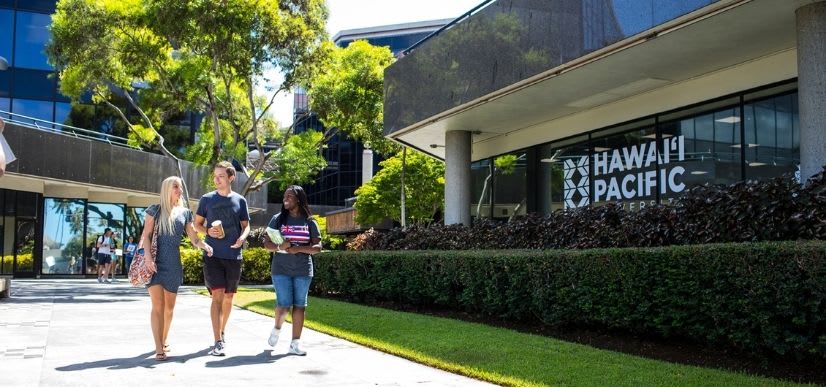 At HPU we believe that it is our responsibility to give back to the community and respect the land we live in. Students, faculty, staff, and the broader university community are encouraged to find experiential learning opportunities with community impact that perpetuates our Hawaiian values of pono, kuleana, and aloha.
Mission, Vision, Values
Mission
Hawai'i Pacific University is an international learning community set in the rich cultural context of Hawai'i. Students from around the world join us for an American education built on a liberal arts foundation. Our innovative undergraduate and graduate programs anticipate the changing needs of the community and prepare our graduates to live, work, and learn as active members of a global society.
Vision
Hawai'i Pacific will be consistently ranked among the United States' top 10 Western, independent, comprehensive universities, leveraging its geographic position between the Western and Eastern hemispheres and its relationships around the Pacific Rim to deliver an educational experience that is distinct among American campuses.
Values
The faculty, staff, students and overall university community of Hawai'i Pacific embrace the following values as representative of the spiritual, ethical, and philosophical principles that support our community, as well as of the aspirational ideals to which we collectively aspire.
Pono, meaning righteous, honest and moral, and energy of necessity.
Kuleana, meaning responsibility and rights, and concern for all interests, property, and people.
Aloha, meaning hello, goodbye, love, kindness and grace, unity, humility, patience, and waiting for the right moment.
Information
Accreditations and Memberships
Hawai'i Pacific University is accredited by the Accrediting Commission for Senior Colleges of the Western Association of Schools and Colleges (WASC) and has a number of additional accreditations and memberships from nationally recognized groups.
Campuses & Facilities
With the excitement of an urban downtown campus, the serenity of the Ko'olau mountains, and an Oceanic Institute bordering the ocean, HPU's campuses are as diverse as its students.
History
Discover more about HPU's rich history and over 50 years of experience serving Hawai'i.
HPU by the Numbers
With students from all 50 states and 65 countries, HPU is one of the most culturally diverse universities in the world.
Rankings and Achievements
Hawai'i Pacific University (HPU) has received a number of accolades for academic excellence, international diversity, and the affordability of the private education we offer.
Student Right to Know
HPU prides itself on its transparency as an institution, and for its concern for the well-being and fair treatment of all its students. Learn more about the Student Right-to-Know Act.
Student Success
HPU is committed to excellence in student achievement. By employing innovative teaching and learning strategies and experiential approaches rooted in our tropical island community, we ensure that our students cultivate the knowledge, skills, and values that are expected of all educated citizens. We provide them with a liberal arts foundation set in the rich cultural context of Hawai'i by offering diverse courses outside the major that inspire lifelong learning and introduce students to ideas, perspectives, and experiences relevant to their lives. We also prepare them for the unique challenges and opportunities of the 21st century by offering courses within the major that facilitate the learning and mastery of the concepts, theories, and methods of their chosen disciplines. Finally, we encourage engagement in the HPU and local community by providing a rich array of co-curricular activities that shine a spotlight on our unique cultural traditions, exquisite natural surroundings, and wondrous spirit of aloha.