About AUS
The American Institute of Applied Sciences in Switzerland (AUS) is a private and fully accredited institution of Higher Education offering undergraduate and graduate programs in the study of Business Administration along with several industry specialization offerings.
AUS is partnered with Tiffin University in the United States, allowing AUS students to obtain a dual degree from both Universities. In addition, AUS is proud to be recognized as an official IATA (International Aviation Transportation Association) Authorized Training Center, offering students several options to build and grow their careers in aviation.
All courses are taught in English by leading international business visionaries who bring extensive teaching and business experience into their classrooms. Leveraging their networks, our professors invite industry leaders to guest lecture and speak, bringing additional practical experience and expertise to the institution.
AUS students represent over 45 nationalities from Asia, Europe, sub-Sahara Africa, and the MENA region, sharing their experiences, cultural perspectives, and varied work experiences, supporting AUS' global perspective.
AUS is chartered under Swiss law and recognized by the Department of Education in the Canton of Vaud as an Institute of Higher Education. AUS is a member of the Swiss Federation of Private Schools (FSEP) and Swiss Private Schools (AVDEP). AUS is accredited by IACBE (International Accreditation Council for Business Education), and the Council for Higher Education Accreditation (CHEA).
AUS Dual Degree Specializations are further accredited by the Higher Learning Commission (HLC) and the Accreditation Council for Business Schools and Programs (ACBSP)
Global Collaborations
Today's graduates must compete in a job market that demands strong technical skills in addition to core business knowledge and competencies. We ensure that our students have access to the most up-to-date tools in the business world by joining theIBM Academic Initiative and becoming an Apple Authorized Training Center for Education.

Location
The American Institute of Applied Sciences in Switzerland is located in the heart of the Swiss Riviera city of La Tour-de-Peilz, which is located in the canton of Vaud, in the French-speaking part of Switzerland. AUS provides students from all over the world with the opportunity to gain a truly remarkable and global academic business experience. The campus itself is located in the small and heart-warming town of La Tour-de-Peilz, not far from Lake Geneva. The geographical location allows our students to truly enjoy and explore all the nature of Switzerland. Since Geneva is 50 minutes away and Lausanne is just 25 minutes away from La Tour-de-Peilz.
Switzerland itself is located in the very heart of Europe, which allows and enables students to travel and explore the nearest neighboring countries, such as Germany, France, Italy, the Netherlands, Spain, Portugal, the Czech Republic, and many other breathtaking countries of Europe. A study abroad experience in Switzerland is something truly remarkable and extraordinary.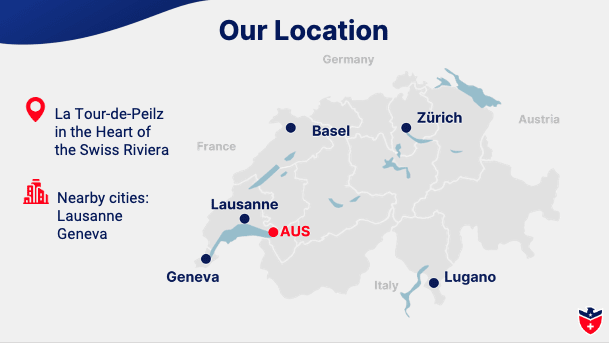 Reasons to study at AUS
1. High-quality Education
Immerse yourself in a vibrant study environment where excellence reigns supreme and opportunities for personal growth are abundant. With a strong global reputation as a hub of educational excellence, Switzerland will provide you with a world-class education. Embrace a unique blend of American and Swiss curricula in an intimate learning setting, where small class sizes (just 20 students per class) allow for personalized mentorship and advising from instructors. With a faculty-to-student ratio of 1-7, you'll enjoy a close-knit working relationship with your professors, opening doors to a brighter future.
2. Interactive Learning Environment
The dynamic and interactive learning atmosphere at AUS that fosters growth and success. With small class sizes, you'll receive personalized attention and coaching, giving you the tools you need to thrive. Join a community of motivated students who are eager to learn, participate, and be inspired. Embrace endless opportunities for engagement and exploration, and get ready to soar!
3. Learn Business
Experience a one-of-a-kind education where theory becomes practice. Our professors are not just academics, they're living, breathing examples of success, bringing their professional experiences to life in the classroom. You'll leave with not just information, but a comprehensive understanding of how to apply your knowledge to the real world. Get ready to thrive in a dynamic, hands-on learning environment that will take you to new heights.
4. Multicultural Environment
Empower yourself as a global leader and citizen by studying in a diverse, multicultural setting. At AUS, you'll be a part of a vibrant community made up of over 45 nationalities, allowing you to broaden your perspectives and gain a deep appreciation for cultural diversity. Immerse yourself in a community that celebrates differences and enables you to thrive in today's interconnected world. Join us and become a well-rounded, globally-minded individual!
5. Relevant and Focused Curriculum
Studying in a multicultural environment The academic program at AUS has been redesigned and created to guarantee that it is relevant for an ever-changing business environment and that students graduate with the critical skills needed for employment. The 4IR skills of AUS students are developed through learning by doing and application, as well as feedback and coaching. Each course involves theory as well as the development of hard and soft skills through two experiential learning opportunities, such as:
Simulations

Presentations – individual and/or group

Case studies

Projects – individual and/or group
6. Student Support
At AUS, we are dedicated to making the transition to campus seamless for international students. From securing a student residence permit to finding the perfect accommodation, we provide active support and guidance every step of the way. Let us help you settle in and focus on what truly matters - your education and growth.
AUS Degrees and Specializations
The American Institute of Applied Sciences in Switzerland offers a range of business-related Bachelor's and Master's Degrees and Specializations
At AUS, we collaborate with world-leading organizations to offer our students a unique opportunity to graduate with more than just a degree.
Dual Degree
Students at the American Institute of Applied Sciences in Switzerland can decide to specialize and earn a Dual Degree Program with Tiffin University located in the United States of America.

Tiffin University is accredited by the Accreditation Council for Business Schools and Programs (ACBSP), the Higher Learning Commission (HLC), one of the six US regional accreditation agencies and the Ohio Department of Higher Education.

Most governments around the world recognize the HLC accreditation and thus they will recognize the AUS Dual Degrees.