3iL Group: 2 schools – 3 degrees – Careers in Computer Technologies and Engineering
Who are we?
Created in 1987 by the Chamber of Commerce and Industry of Limoges, Groupe 3iL is composed of 2 high schools: 3iL Ingénieurs and 3iL Academy, which issue several high degrees specializing in Computer Science. Those degrees are recognized by the French Ministry of Higher Education. We have the certification ISO 9001 issued by AFNOR Certification (AFAQ: French quality assurance). So, we are recognized for the quality we provide. It helps us improve our competitiveness and have good practices endorsed by quality marks recognized by professionals. We've got also many institutional, academic and professional partners. 3iL Ingénieurs is a training in Computer Science which requests a high level in Science, Computing, and Management. The degree is a Master grade accredited by the European label EUR-ACE, but also by the French educational institution called Commission des Titres d'Ingénieurs (Engineering Education Commission), a label to guarantee the quality of the Engineering degree and his adaptation to the needs of firms. There is no literal translation of CTI because we use it only in France even if we can find some engineering school abroad (Vietnam, Belgium, Bulgaria …) The CTI has a lot of requirements you need to follow if you want to renew the accreditation. For example, students need to spend at least one semester abroad (one academic exchange semester). The "Ingénieur" label is a registered and protected trademark. 3iL Academy is based on 2 professional pieces of training (accredited by the French commission for professional certificates): *
a Bachelor of Conception for Information Systems which lets to get skills mainly in Web and Networks and soon in Big Data and E-Health (after a 2-year training with a Computer Science field). This course is approved as a second level (4-year university course).
a 2-year Master of Management and Information Systems and Infrastructure (after a Bachelor with a Computer Science field), approved as once level (5-year university course)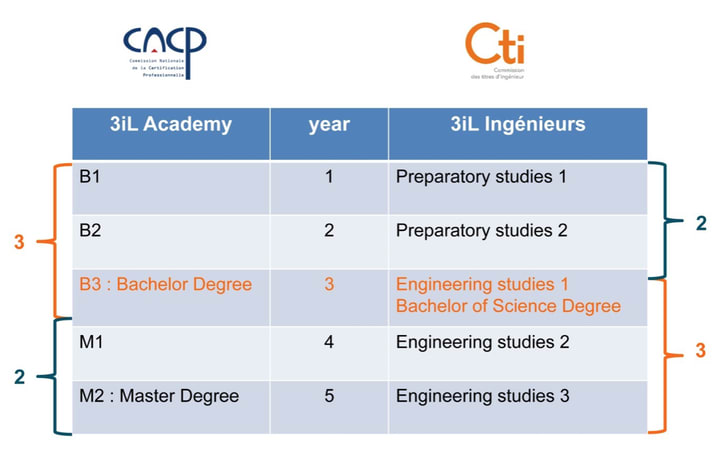 Where are we?
3iL group is located at Limoges. It offers a comfortable way of life with nature and cheap accommodation nearby. Limoges is located at 3 hours from Paris by train or 1 hour by plane. This town's central location (at the crossroads between the motorway from Spain to Northern Europe and halfway between Central Europe and the Atlantic) makes it ideal for all kinds of exchanges. Limoges has a long history dating from the early middle ages. The early prosperity of Limoges was closely linked to the porcelain industry. Town of art and history and capital of the Fire Arts, Limoges enables visitors to admire a collection unique in the world: 12 000 pieces of porcelain exhibited at the Adrien Dubouché National Museum. This prestigious label is awarded by the Ministry for Culture to local authorities that have worked to promote the heritage of their region among both inhabitants and visitors.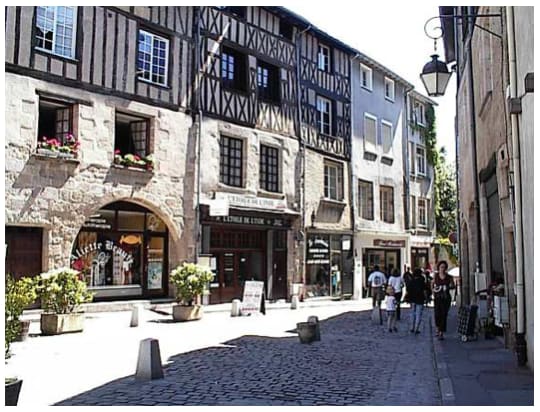 Why may you choose us?
Because of our curriculum, skills and pedagogic approaches :
Are associated with firms expectations and are developed to answer to their needs.
Are associated with scientific researchers taking place with XLIM Laboratory (CNRS)
Are widely opened to international mobility and experience (academic exchanges or dual degrees)
And definitely, provide a high employability (75% of our students find a job before their graduation!)
Testimonials
I selected 3iL to study Computer Science and Engineering courses, so as to get a French degree with the CTI label. When I arrived at 3iL, my mentor helped me to do all compulsory formalities, even to move in my accommodation. I am living an unbelievable experience and have lots of friends. I advise foreign students to choose this school with a familial spirit. There are quality courses and team projects for a better learning and putting into practice in firms. Amina BENBIGA - Casablanca I 2015 class There is a comfortable environment at 3iL to study. Teachers are patient and my classmates are very nice. I also benefit from the FLE programme, in order to improve my level in French. Wang LIU - Pékin I 2015 class