Masters in protocol design, creation and management of corporate and institutional events
Home ›
Master ›
Masters in protocol design, creation and management of corporate and institutional events
Program Description
When we talk about events, we refer to acts of social relationships that are organized to convey a message to a targeted audience with the aim of achieving a result in this audience.
In order to develop an event properly, we need to unite many disciplines, creativity, staging, production, protocol, research of our public, marketing, of course corporate communication of the institution and so on.
The master in PROTOCOL, DESIGN, CREATION AND ADDRESS OF CORPORATE EVENTS AND INSTITUTIONAL, of the International School of Protocol It is a highly competitive program that prepares and enables the student to professional development Creation, Management and Design Events and Institutional Relations.
This program is developed, based on industry growth forecasts suggest that all the consequent increase in the budget earmarked for organizations creating corporate events.
Methodology
The programs are developed in a modular way in order to make them more readable and manageable in the logical evolution of the learning process and the study methodology is based on three fundamental questions :.
B-LEARNING one classroom combining classroom teaching with online work system where students study adapts to its particular circumstances of time, place and work space is established.
Program
Module 1. Design, Building and Planning Events - 6 ECTS
Content:
the breefing
Creativity and innovation event
Strategic planning
Project management
Time management
bussines plan
Module 2. Management and Corporate Event Management - 8 ECTS
Content:
Fundamentals of Economics
Management skills
Leadership and Team Management
Coaching
CSR and Sustainability
Spokesperson training
Module 3. Global Communication Management at Events - 10 ECTS
Content:
general theory of communication
Events and media
Event Marketing
The corporate image and brand the Identity events-
Advertising and Public Relations events
Module 4. Organization of protocol Techniques - 4 ECTS
Content:
Protocol concept
Treatment of host
presidencies
Management systems
Types of tables
The program and its technical
Module 5. Protocol and Events. Areas of the Protocol - 6 ECTS
Content:
Official Protocol
legislation protocol
Protocol Company
social protocol and personal image
Restaurant and Catering
International Protocol
Military Protocol
Module 6. Organization Acts ordinary work 5 ECTS
Content:
inaugurations
Receptions and receptions
Conferences
Product presentations
Organization Summit
The first stones
The budgets
Congress Organization
Module 7. Management and Running Events- 10 ECTS
Content:
Set Design and Staging
Introduction to event production
Official events Workshop
Workshop Corporate Events
Workshop Events
Workshop Sporting Events
The Catering in Events
8. Practice module Professionals- 5 ECTS
Module 9. End of Master- 6 ECTS
Practices and job
The International School of Protocol is available to students career guidance service from which educational practices are managed and the jobs that companies do reach the EIP are channeled.
educational practices
Practices intended student comprehensive training through a parallel educational program at the university and enterprise combining theory and practice. The Master in Protocol, Design, Creation and Event Management includes in its curriculum 5 ECTS internship School currently has numerous agreements with companies and public institutions, which allows each year all students who wish or credit have minimum knowledge required to make their actual practices in organizing events and other related responsibilities cabinets event organization, marketing, advertising, corporate communications and institutional relations.
Similarly, the EIP promotes its own actions, under the direction of qualified experts, manage the students and having another opportunity to approach the real market. Finally the school, through its company event organization, OVC, encourages the participation of students and assistants, junior, senior and coordinators in all events organized, which is not only a perfect complement to their training, but the beginning of their development and professional maturity. This is a hybrid learning in the classroom work, the teacher explains contents, organized labor, calls for the development of tasks, proposed axioms, answers questions, etc. united all the work and research online where to carry out tasks either individually or through collaborative work is encouraged, thus developing their skills, performing continuous controls self-assessment.
Last updated Mar 2020
About the School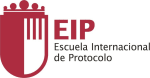 La Escuela Internacional de Protocolo es uno de los primeros centros en España que entre sus planes de formación ofrece cursar estudios universitarios tanto de grado como de postgrado y cursos de espe ... Read More
La Escuela Internacional de Protocolo es uno de los primeros centros en España que entre sus planes de formación ofrece cursar estudios universitarios tanto de grado como de postgrado y cursos de especialización en Organización de Eventos, Protocolo y Relaciones Institucionales. Estas títulaciones están avaladas por la Universidad Europea de Madrid.
Read less