Master in Computer Applications
Program Description
MASTER IN COMPUTER APPLICATIONS
Introduction
The branches and applications of Computer Science are increasing day-by-day. Along with e-enabled services, applications in medical sciences, biological sciences, the arts, film industry etc are forever increasing worldwide. To support such diversity, the range of skills required and hence jobs in the computing industry are also increasing. Local market experience bears witness that fresh graduates lack knowledge of how Computer Science fits into the business world. These graduates have a lot of skills, however, they are at a loss as to how computers can be used as tools to increase business efficiency. Local software development projects often fail. For such projects, it has been found that the brunt of project time is spent during final implementation. Sometimes it is found that client requirements have not been properly understood making a lot of re-engineering necessary in the final stages. Not only does this lengthen the development cycle, projects often fail at this point. This generally points to lack of proper analysis and design of the project requirement. Documentation for software development projects is often poor. The root of this is found in the severe lack of communication skills in graduates. They shy away from having to write often they don't know where to start.
All these points to the need for a Masters level course that would address some of these issues.
Mission
To equip non-IT graduates, both with and without experience, the necessary knowledge, and skills to design, develop and implement large software projects.
Aims and Objectives
The intended objective of the Master's degree is to provide graduate education for professionals in software development methodologies, techniques, qualities, and technologies valuable for various industry segments - education, government, marketing, business, manufacturing as well as specialized fields such as medicine and law. Knowledge gained through this program should enable professionals to use information technology to solve problems of organizations and the society as a whole.
Course Structure
A student must earn total 52 credit hours of courses and 8 credits hours of internship to complete the degree.
The structure is divided into four segments: core or foundation, electives, specialization track, and internship.
Core Segment mainly concentrates on courses about software development life cycle (SDLC) and an internship project using SDLC methodologies. In addition, database systems, networking, Object Oriented analysis, and design are included. Theory classes on various IT issues and policies IT and social development, copyright, and privacy policy, ethics, quality assurance are also included. The last class of the core will be a capstone project class, which will be mainly concentrating on developing a real-world project development.
Electives: Students will take two courses from a group of courses as electives
Specialization track: Students pursuing MCA will choose a concentration of courses to fulfill their degree requirement. Choosing a set of three related courses will provide the student with an in-depth knowledge of a specific area.
Internship: To complete the requirements for the Master of Science in Computer Applications, students must successfully complete an internship (8 credit hours).
MCA CURRICULUM
Core or Foundation
12 courses (37 credit hours). Every student must successfully complete the following list of courses.
CSE 501 Elementary programming concepts
CSE 515 Data Structure and Algorithms (using C++)
CSE 516 Object-Oriented Programming (with Java)
CSE 521 Concepts of Software Engineering and MIS
CSE 522 System analysis and design (using CASE Tools) Part 1 (Project)
CSE 523 System analysis and design Part 2
CSE 524 Software Project Management
CSE 541 E-Commerce, E-Business, and others) (Project)
CSE 551 Database Management Systems
CSE 561 Computer Networking
CSE 571 Technical Communications (Oral, Written and Visual)
CSE 572 Importance of IT in social development
Electives
2 courses (6 credit hours). Students will attend two courses from the following list.
CSE 617 Visual Programming
CSE 618 Introduction to Graphics Design (3-d design, Flash, Adobe)
CSE 629 Software Quality Assurance or Control
CSE 631 Client Server Technology
CSE 645 Introduction to E-Business Concepts and Strategies (ERP, SCM, CRM, EAI)
CSE 662 Advanced Computer Networking ( WAN, Wireless, ATM, Frame Relay )
CSE 673 Legal Issues in IT (Copyright Law, privacy act, ethics)
CSE 681 Operating system (Projects)
Specialization track
3 courses (9 credit hours) Students will select one of the specialization tracks from a number of different categories. Each track will consist of three courses.
Track 1: Software engineering
CSE 628 Software Process Management
CSE 629 Software Quality Assurance or Control
CSE 632 Applied Patterns and Architectures (using GOAD)
Track 2: DBMS
CSE 652 Advanced DBMS and Administration
CSE 653 Advanced Database Concepts Object, Distributed, and Web DBMS
CSE 654 Data Warehousing and Data Mining
Track 3: Communications
CSE 642 Introduction to XML (Extensive Markup Language) (Project)
CSE 662 Advanced Computer Networking (WAN, wireless, ATM, Frame Relay)
CSE 663 Telecommunications and Internet Management
Track 5: Project Management or MIS
The Project Management or MIS concentration provides the conceptual, technical, and managerial background necessary to work as a business analyst or IS consultant, or in a variety of more specialized roles related to developing and managing the information resources of the organization.
CSE 626 Advanced Topics in MIS
CSE 625 Operational and Strategic Management
CSE 627 Requirements Specification and Testing
Track 6: Web and E-Business
E-Business concentrations are designed to provide students with a broad, interdisciplinary introduction to the range of business and technology issues that define the new directions of electronic commerce on the Internet. These courses include the challenges of designing virtual organizations, developing firm strategies for the electronic markets of the World Wide Web, crafting innovative programs for Internet marketing, working with the emerging technologies, and understanding what it really takes to operate an Internet-based business. Students will be trained to develop an understanding of how the largest firms in the market are making the transition to the new distribution channels of e-business, and creating pressures that change industry structure.
CSE 646 E-Business frameworks (Security, Payment framework, Public key Infrastructure, Digital signature)
CSE 647 Internet marketing in e-business
CSE 648 Advanced E-Business Concepts (m-commerce, EDI, P2P, B2B, B2C)
CSE 599 Internship (8 credits)
Students in a group will participate in an extensive real-world project either in client side or in-house.
Student Body
The following category of students would be the target of the MCA course.
Non-IT Graduates
Non-IT graduates working in the IT industry
Business executives and professionals
PGDIT graduates.
Admission Requirements
Students having a minimum of 2nd class /2.5 CGPA (out of 4) in any one of the following degrees can apply:
4-year bachelor's degree from the recognized university
3-year Honors degree and 1-year Master's degree
Graduate students having completed PGDIT course
Last updated May 2018
About the School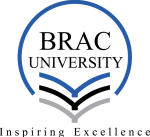 BRAC University (BRACU) was established in 2001. It follows a liberal arts approach to education which nurtures fresh ideas and gives new impetus to the field of tertiary education. It ensures a high ... Read More
BRAC University (BRACU) was established in 2001. It follows a liberal arts approach to education which nurtures fresh ideas and gives new impetus to the field of tertiary education. It ensures a high quality of education and aims to meet the demands of contemporary times. Building on BRAC's experience of seeking solutions to challenges posed by extreme poverty, BRACU hopes to instill in its students a commitment to working towards national development and progress.
Read less